Cambodia's sunshine and heavenly beaches draw in expatriates from all over the world. The number of foreigners who settle there is constantly increasing. They come for different reasons, but with the same hopes: to be able to live better and flourish in the Khmer country. There is reason to believe that life will be better in Cambodia than in Europe or elsewhere. On the one hand, the cost of living is much lower, real estate is cheaper, as are transportation and all the comforts of daily life.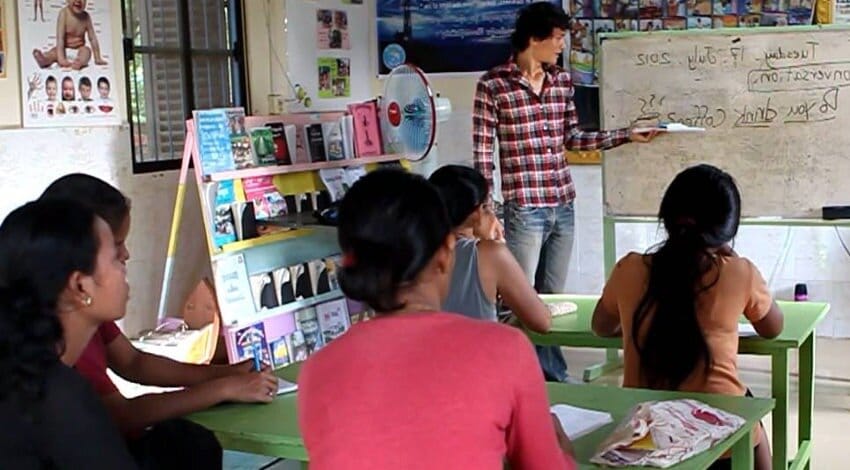 There is no shortage of activities to meet and interact with other expatriates. The social bond is such that distance from family and friends becomes easier to live with as the days go by.
Hi, are you looking for teaching jobs in Cambodia 👩‍🎓 ? I have been living in South East Asia for more than four years now and I am sharing with you the opportunities for employment, volunteering and internship in the region.

Cambodia has many opportunities for english teaching jobs 🤑, but if you want to settle down for several years, develop a professional network and bounce back on long term job in your field, then I will share with you my recommendations as an expatriate who has been in the region for the past four years. You will find out what I think is THE best country to target for long-term job opportunities 🚀.
Which Working Positions Do Expats Have in Cambodia?
Many sectors are a source of employment because this country is in full economic expansion. The majority are skilled workers, hired by companies to fill a position of responsibility in areas where the local human resource still lacks competence. There are also many digital nomads. Cambodia has the necessary technology and the freedom they are looking for and above all the dream working environment they like, many others, stay in the country for.
Engineers, business developers, designers or marketers are position that expats are usually taking. They arrive in Cambodia with a diploma or experience that they can valuate and get a high package with challenging positions. If you don't want to be an english teacher, you can still find a job and work in Cambodia in your field. It may require a bit more time for you to find the perfect job fitting your skills and expertise but it worth a trial to fulfil yourself and boost your career. In a view to achieve those kind of selected positions, some Expats intend to start as a trainee or internship for a cambodian company to really get to know the markets and find the position that they can deserve.
There are also teaching positions, especially English language teachers. It is a profession practiced by a large number of foreigners, being English-speaking is a real plus in Cambodia. For Cambodians, mastering the English language means having a wider range of choices in the labor market. You can meet professionals with degrees from Western countries, and then English-speaking native speakers who give courses. Although teachers in Cambodia do not earn as much money as in other countries in Southeast Asia, expatriates who teach English there remain for many other reasons.
Q&A – Teach English in Cambodia ?
🤑 Should I dive deep and find a full-time position in Cambodia?
However temping it might sound, I would recommend to first find a volunteer work to get a taste of the Khmer country, and at the same time make a difference in the place where many people cannot afford English courses. After your volunteer program is finished, you will be able to make a right decision on whether to get employed in Cambodia full-time.
🤔 Do I have to be a native English speaker to become an English teacher in Cambodia?
No. If your English is on a sufficient level to teach it, there will be no problem to get a teacher position in Cambodia. However, the higher your degree is, the more chances you have to be employed at a well-paid position.
🇰🇭 Is it necessary to speak Khmer to teach English in Cambodia?
No. Speaking a local language is always a great bonus, but if you do not have any knowledge of Khmer, no worries. You will be able to learn the language alongside with your teaching job in Cambodia.
🌍 Are any other languages taught in Cambodia?
Sure. In Cambodia, you will find some of the most passionate language learners in the region. Apart from English, such languages as French, Vietnamese and Chinese are also in a high demand among locals.
🎓 Do I have to obtain a diploma in teaching to become an English teacher in Cambodia?
No, it is not necessary. Nevertheless, with such certificates as TEFL or CELTA, you will be eligible for a job in international schools that offer the most well-paid teacher positions in the country.
🇻🇳 Best country to teach english in Asia ?
Vietnam has a GDP almost ten times higher than that of Cambodia. The main cities having a lot of English teachers are Ho Chi Minh City, Hanoi and Danang. In these cities you are almost sure to find a job. Job opportunities are much greater in Vietnam than in Cambodia. If you wish to spend several years in South East Asia, we seriously invite you to take a look at Vietnam. Read a below for access to resources on employment in English language teaching in Vietnam.
There are more schools in the big megacities with millions of inhabitants as well as in more rural and authentic parts of Vietnam. This diversity allows many expatriates to find jobs in a few weeks to a lot of language centers all over the country.
TEFL, CELTA: Diploma Required to Teach in Cambodia?
For a white person, it would be enough to be courteous and pleasant to get a teaching position in the various structures and platforms that offer English courses in Cambodia. The demand for this type of service is high, because in the local mentality, mastering the English language is seen as a plus. Some candidates even have a baccalaureate degree and are able to find a place in the ranks of teachers.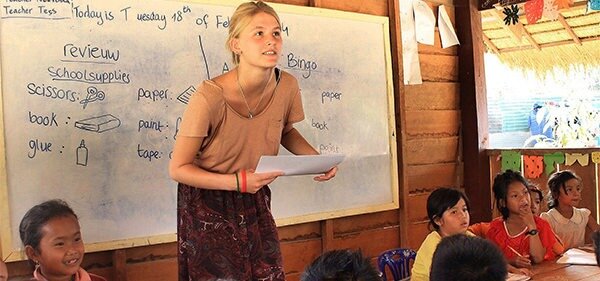 These are diplomas such as the TEFL certificate (teaching English as a Foreign Language) or CELTA (teaching English to adults certificate) which allows you to access contracts with higher salaries by joining an International School.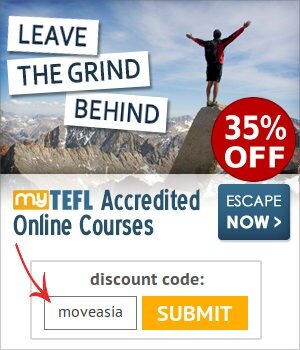 But most aspiring teachers started by volunteering as a way of making their first approach to being an English teacher,understanding how this society works, what the most appropriate pedagogical methods are, and how to organize their time schedule to teacher between the preparation of the courses and the courses themselves.
Do you want to become an English teacher in Cambodia? The majority of schools now require a TEFL to be authorized to teach English. This online program allows you to obtain your internationally recognized TEFL accreditation, gain experience and become an English teacher in Cambodia.
Click here to learn more about MyTEFL
(-35% with the code "MOVEASIA")
Volunteer in Cambodia
Volunteering is a very noble way to gain experience, while providing invaluable support to Cambodian society where the majority of the population will not be able to afford education.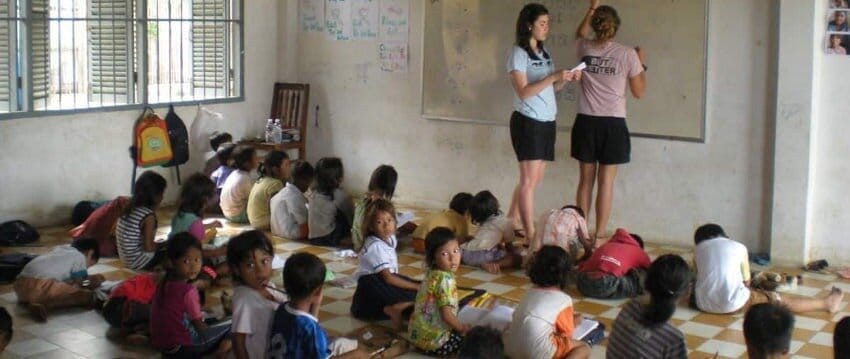 The average salary of a Cambodian is enough to live comfortably.
How to teach English in Cambodia?
Start by volunteering. So many of the courses given by volunteers are very much appreciated, given that there is a segment of the population that will never be able to afford English courses. There is a real need for education in Cambodia, and many projects, both governmental and non-governmental, are geared towards this goal. Volunteering is a way to make yourself known, to get to know the educational community first while benefiting from the experiences.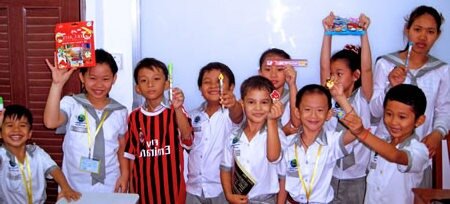 This is very valuable for the Cambodians, they will be very grateful to you. There is therefore also a small degree of personal satisfaction in the fact that you have been able to volunteer and share it with people who would otherwise never have been able to take advantage of new language learning courses. In return, you also learn, and you discover the Cambodians, their worlds, and how to approach teaching them to better your skills.. Previous experience in teaching can also help your chances of getting a teaching job in Cambodia.
Want to teach english in Cambodia ? Download our e-book to help you moving abroad
Beginner or Experienced: Anyone Can Become a Teacher
Of course, if you are already a teacher in your home country before you arrive in Cambodia, or you already have international experience having taught in other countries around the world, volunteering for immersion's sake may not be the right fit for you. The average salary of an expatriate teacher is between $10 and $14 an hour, which is relatively in the high range, as one of the most qualified local teachers is paid about $200 a month. In the capital Phnom Penh and other major cities, salaries are higher than in the provinces. Local institutions apply a different salary for the same position regardless of whether it is a foreigner or a locally recruited person. Depending on your qualifications, diplomas, experience, different possibilities and opportunities may arise for you to teach the English language in Cambodia. Just being from another country and being English-speaking already plays a big part in your success in getting your first job as an English teacher. Demand is very high for this type of service, provided you know where you would not have difficulty finding. Overall, teachers from other countries are well paid in Cambodia. You can live on your teacher's salary without any problems. Many foreigners who want to start in this field start by volunteering in the various social centers, orphanages etc. This allows them to gain experience in the field, but also allows them to build relationships and later get paid contracts.
Teaching and Education in Cambodia: Behind the Scenes
Educational infrastructure does not always meet international standards. It must be adapted to existing resources and existing infrastructure. Classrooms are not always suitable. They might not be in very good condition or not always soundproof enough,. The teaching materials are not the same as those found in major language teaching centers (language labs, libraries). This can create frustration for some who have not yet had similar experiences, and it is probably not the primary objective of an expatriation to face such frustration.
Fortunately, there is the human aspect. In every classroom, the recognition teachers get from students sometimes compensates for all the other things that may have frustrated the teacher. It is a more than enriching exchange if we can put it into perspective. Sometimes it can also be frustrating to be paid only for the course hours. However, this is not a problem specific to Cambodia. It is a frustration for teachers all over the world. To succeed in this experience as an English teacher in Cambodia the most important thing is to be passionate about what you do. Paid or not, you will find your fulfillment.
More questions about life in Cambodia ? Receive your personalized e-book
🤔 Do I really recommend you to find a job in Cambodia ?
Well, if I were you, I'd be looking more into Vietnam. The country is much more dynamic, bigger and has more opportunities. Because it has a young and dynamic skilled workforce, Vietnam is receiving much more attention than Cambodia from foreign companies. This is why you will have a higher chance of getting a job there : a job in education, a regular non-teaching job or even an internship.
The advantage of focusing on Vietnam rather than in Cambodia is also that it counts much more investments from companies based in Europe, USA, Australia … so in Vietnam, you get a lot of job offers from Vietnamese or foreign companies that are looking to recruit skilled foreign profiles to join their teams.