To create a company, start-up, business or a restaurant in Cambodia, many have already made their dream come true. A business creation project requires financial resources and skills, but above all, connections. The creation of a company is certainly not done on the spur of the moment. Far too much money and time is at stake to take this kind of project lightly. But it is not enough to just have the right ideas to try your luck in the business world in Cambodia. Competition is all the more fierce, and the codes are not quite similar to those of other countries. The choice to set up a business in Cambodia is often influenced by the fact that the administrative procedures are not complex, the cost of the process is reasonable, even low compared to other countries. Nevertheless, it must be said that the economic policy open to the establishment of foreign companies is also a major factor, a system of investor protection. To encourage investors, it is also possible to obtain an investor visa, especially if it is provided for in the business plan that the company hires from the local population. But be careful, because a business creation project is not a guarantee of obtaining a visa for Cambodian territory either.
An idea, a Business Project in Cambodia … ?
Each country has its own understanding of the particularity that Cambodia represents. It is only an asset to set up its own company. Questions arise: How is the business done? Who are the opinion leaders in the field you decide to start in?. It is not only a question of market research, which will of course be useful, but it is more a cultural issue here.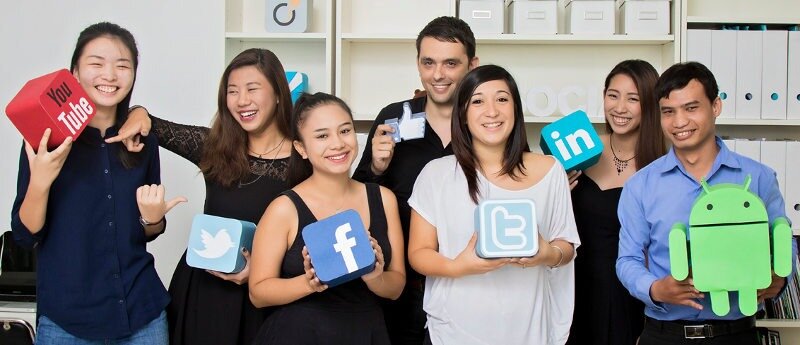 Obviously, the business approach and the way of working are not the same in Europe and Asia. You have to assimilate this and adapt your strategy before starting any business creation steps. This could help you avoid many disappointments and help you anticipate the dilemmas you will face. Mainly, it is interesting to know that word of mouth replaces social networks to convey information in Cambodia. Prudence is of order, the slightest rumor and your company will never be able to enjoy the success to which it is dedicated, however hard the efforts you will make. Similarly, due to its history, there are areas that are lagging behind and others that are already well developed on the ground.
The Cambodian Market
The agri-food sector, particularly restaurants, and the tourism and hotel sector are the most popular with business creators, especially foreigners. But whatever the sector, you absolutely must conduct market surveys to do very thorough market research. All of this is worth considering the time required to prepare the project before actually starting. The choice must be made for a niche that has not yet been fully exploited, and for which you have expertise.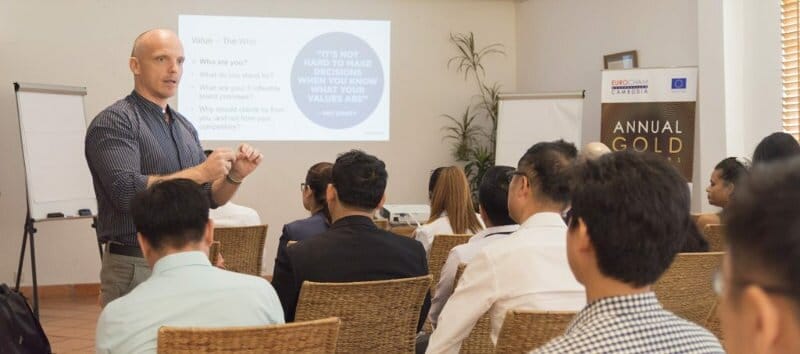 Know how to assess your strengths and weaknesses, and above all, do not neglect to ensure an irreproachable quality of service so as not to be quickly crushed by the competition that is already very tough in Cambodia. A very good preparation of your feasibility file for setting up in Cambodia can help you avoid unpleasant surprises later on. And vice versa, a poor assessment during your market research can cost you a lot of money and time.
Do you want to open a business in Cambodia? Consult our guide and get our best advice
Q&A Set up a company in Cambodia : answers to your main questions
📊 What type of company will I, as a foreigner, need to register?
Registering a company in Cambodia is not the same as it is in your local country. There are a few extra things to look for. Firstly, you'll need to get acquainted with an investor Visa, especially if you are looking to hire local residents. As law and rules in Cambodia is not easy to understand, we highly recommend you to meet up with some law firm when you move to Cambodia or ask for recommendations from expatriates living in Cambodia to evaluate the different options you are having.
💰 What are the fees involved in starting a business?
You are required to have a bank account with a minimum balance of $1300. Furthermore, it is mandatory to register your company on the Ministry of Commerce website, where you are required to pay a registration fee of about $450. You will have other fees about the registration, obtaining work permit if you want to involve foreigners in the business and get all certificate to be able to sell for instance goods in Cambodia.
🇰🇭 What company is most likely to prosper in a country like Cambodia?
The food sector, restaurants in particular, are one of the most popular tourist attractions, and is quite popular amongst business entrepreneurs. This may be so, but due to the growing economy in Cambodia, there are numerous business sectors that are sure to prosper.
📝 What are the requirements that are needed in the registering of a company in Cambodia?
We would definitely recommend you to work closely with an accountant or a law firm recommended by an expatriate living in Cambodia, so you don't need to worry too much and can rely on them about the paperwork. In general, they will ask you :
A memorandum containing the status of your new business
An identity document
A proof of domicile for the company (which may be a rental lease contract, or a gas or electricity bill)
A medical certificate proving a good state of health
An exhaustive list of foreign and local staff
Justification demonstrating the absence of a criminal record (from the country of origin)
The Funding: Are Banks Helping Expats for Business?
It is possible to make a bank loan to create a company in Cambodia for Expatriates or the local population. Be careful about the different loan conditions, interest rates and various other possible fees before signing, though.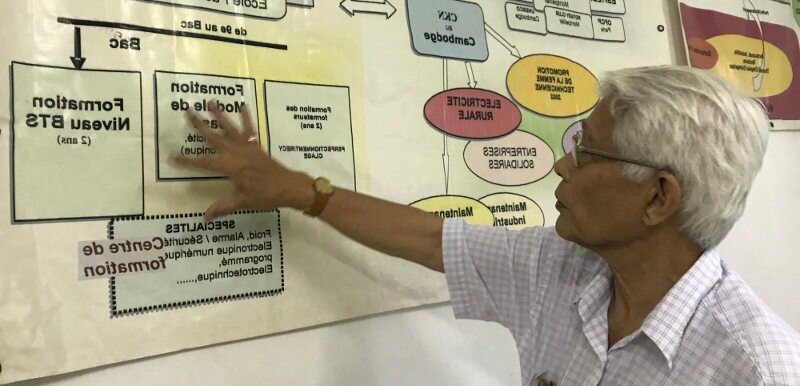 However, there are also investors who inject money into promising start-ups. It takes a lot of resources, and there will be a lot of unforeseen events, but it will never be too much to have an investor who believes in his project and who is ready to support you at every step.
Paperwork and process to open a company in Cambodia
This is not the most difficult part of the business creation process in Cambodia. At this level, the project has had time to simmer, ideas have been put in place and we are moving on to implementation. The documents to be prepared are a valid visa, a work permit, a bank account in a local bank with a minimum balance of 1300 dollars.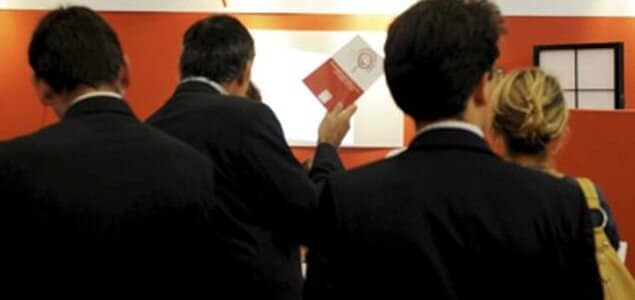 It is mandatory to register the new company on the Ministry of Commerce website and pay the registration fee (approximately $450). When registering online, the following documents must be completed and sent in to complete the application:
A memorandum containing the status of your new business
An identity document
A proof of domicile for the company (which may be a rental lease contract, or a gas or electricity bill)
A medical certificate proving a good state of health
An exhaustive list of foreign and local staff
Justification demonstrating the absence of a criminal record (from the country of origin)
Once this registration is effective, you receive the company license, status and certificate of incorporation.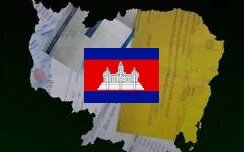 The next step is to file a declaration of company creation with the General Department of Taxation, then with the Ministry of Labour and Vocational Training, which will issue the work permit for all foreign workers.
In all your efforts, do not hesitate to collaborate with the local population, who are more familiar with the administrative system on site. All those who have tried this adventure say that starting a business in Cambodia is not without obstacles but accessible to everyone. The procedures are clearly easier than in most of the western countries. Vigilance is required with regard to the legal framework for business creation in Cambodia. Do not hesitate to use a local consultant for this.
The difficulties to be anticipated
Although Cambodia has had a growing economy and strong economic growth momentum in recent years, the backwardness of its long history means that its development is not yet comparable to other Asian countries. Competition with countries that are already very advanced in the entrepreneurship sector such as China and Hong Kong will be felt very quickly. However, good market research can keep you ahead of the competition. That said, this is not the real problem in the business creation process in Cambodia, and in general in South East Asia. The hardest part is corruption, because it is everywhere and at all levels of the administration.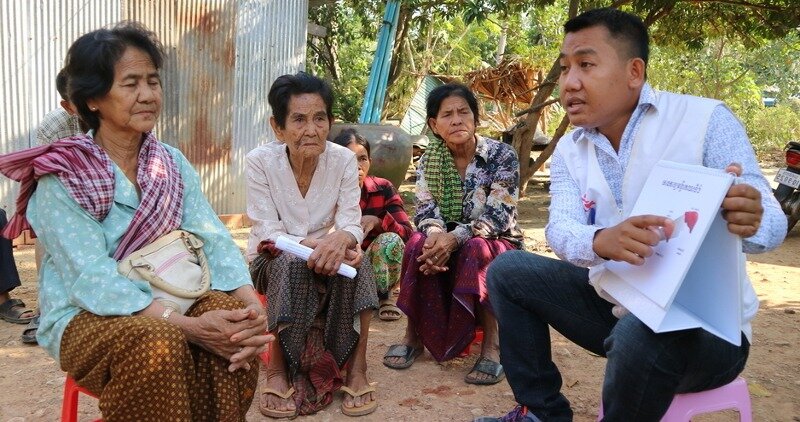 Corruption can manifest itself in different ways, but it is very much present. As a result, it can accelerate, or delay a process depending on the context. The cost can be very expensive. For large investors, a small bribe here and there does not change much about large projects and there is no shortage of funding. But for small start-ups of young people who have more ambition than money, or for retirees who will invest their entire economy, it is really not easy to make additional expenses, at the risk of never being able to see their life project come true. The Cambodian government is already carrying out several reforms in this direction, including strengthening the anti-corruption law, providing citizens with access to public information and providing greater protection for whistle blowers. The government has also committed itself to fighting corruption through various actions to demonstrate that transparency is being achieved in the various public services. Many investors are therefore still willing to inject substantial sums of money into it. If the authority intends to reassure companies to establish themselves in Cambodia, it is up to each of them to assess their risk margins according to each project leader. Because even in a country where the anti-corruption policy is more effective than in Cambodia, there will always be cases that escape the authorities and deals that are suspicious at best.
This does not take away the beauty of a dream of starting a business in Cambodia. Do not hesitate and get started. It is on the way that you will rectify your steps as you progress (or not) and according to the evolution of your project. If others have succeeded and are currently living their dream, it is possible.
Need more information on business in Cambodia? Download the e-book and ask me questions in private