Cambodia Security Exchange is one of the smallest stock markets in the world with just five companies and three bonds listed. As a short term investor, this is not the ideal market to invest in as the Cambodian stock market can be very quiet at times. You have to be very patient and understand the dynamics of this type of stock market before diving into it. Also, if you decide to invest and trade with the market growth, you should try to diversify and not just put all funds into only this stock market to prevent unrecoverable losses.
All the companies listed on the Security Exchange are owned by the state. Just like every other new stock market, this one also has a lot of obstacles that it had to overcome. The stock market has not really been able to attract a lot of foreign investors due to some trading limits that the market has. However, there has been recent excitement for the Cambodian stock market due to a large number of companies to be listed this year. So if you're an investor on the lookout for new markets to trade, you should try studying this market as a likely prospect.
Invest in Cambodia through its stock market ?
Stock Market always shows the dynamics of an countries economic power as well as the functioning of its listed companies. A bullish stock market satisfies not only signals a country's strong economy but encourages major investment opportunities in it from both domestic and as well as foreign investors. Direct Domestic Investment (DDI) and Foreign Domestic Investment (FDI) are two of the major sources of inflow of fund to the open market and further boosts the financial image of the local business there.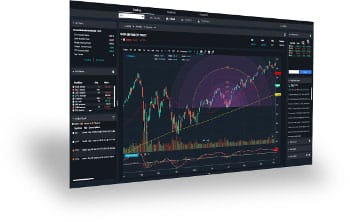 An country's stock exchanges main aim is to achieve the growth of its economy, enhance the flow of cash among its member, seek proper information and status of its different listed companies and promote investments by foreign investors to further boost the economy of the country and the listed member companies of the exchange.
Cambodian stock exchange ( CSX )
Cambodian stock exchange or CSX as it is known throughout is a upcoming market in south west Asia which is looking stronger day by day and is being felt as an upcoming investment market by global investors.
CSX is located in Canadia Tower which happens to be in Phnom Penh, the capital of Cambodia. CSX is one of the smallest exchanges in the world and from the data gathered from 2016, it was reported to have the smallest total market capitalization for its listed companies amongst all the exchanges of the world. As of 2018, the total market cap of the exchange has reached $442.92 million.
Only five stocks are currently listed in the CSX but the future is looking to open up for it.
Cambodian stock market : pro and cons
Business owners in Cambodia do not know about the stock market. They have heard the word, the term, but they don't know what it means and how it functions. They thing it as some sort of casino. Let's digest the main good news and problems to highlight you the main ideas if you should invest in Cambodia through the stock market or not.
CSX advantages : it is getting interesting
Many new announcement are being made and government policies are being dished out with a hope to lift the stock market and economy. Some interesting news are ticking in :
From Nov 2018, the exchange increased its working hours by three and a half hours. This was done because Singapore, Chinese and Korean foreign investors were hoping to invest large in CSX.
From 2019, it was planned by the exchange to allow custodian banks to trade for FI (financial institutions) who had invested in Cambodian market.
The CSX had started mobile banking to help traders from foreign shores.
ASA, the parent company of one of the important local lender Acleda Bank, was hoping to list around 68 million shares which would boost the stock market tremendously.
Leading market authorities are making trips to foreign countries like Thailand, Philippines, Malaysia and Singapore to promote their market to institutional foreign investors so that they can invest heavily in their market.
The stock market has extended the working hours by three-and-a-half hours which has helped to remove the time difference constraints barring some foreign investors from trading the exchange. This is an apparent move to attract foreigners willing to invest.
Another move made was improving the cap on the daily market price from 5% to 10%. These help to remove the previous limit orders that regulated the number of shares that can be bought in a day.
The stock market CEOs have also started approaching financial institutions in the country to list on the stock exchange as interest rate in the country is in double figures. Financial institutions also have well-audited accounts, so there will be no problem with publicity for them. Therefore, they are the best option to be enlisted presently.
Cambodia is growing rapidly. Its GDP, the main index of any countries growth, is growing at 7% which is a very high standard and could be very promising for the countries future. While many countries are revising the GDP projections downward based on their economic scenario, Cambodia is only one of the handful in the group who are regularly showing a positive forecast. Cambodia's growth story has caught the fascination of foreign investors.
Problems encountered with the CSX
One major problem the security exchange has is actually internal, which is getting local companies to list. This is because most locals companies have "not so proper" dealings either presently or in the past.
Some have not been so diligent with their tax payment, and one of the requirements of the listing is going public, and the record books must be shown to all. This means tax agencies can see the account books for any company wanting to list and will be able to identify any that has been defaulting on taxes which could cause problems for such a company.
Another local problem that the stock market faces is the ignorance of most business owners. Most of them do not understand how the dynamics of the stock market works and only see it as a game of luck. Some also do not relish the idea of using other people's money to grow their businesses and prefer using theirs. They also had issues with short term investors at the start of the trading of the market. The only company listed then saw a sharp increase in shares sale on the first day of trading. However, there was a sharp decline just a few days after as short term investors started to sell their shares for a profit.
There are no custodian/licensed banks that can trade for foreigners willing to invest in the stock market hence serving as a significant constraint for foreigners willing to spend. Without these banks, there are no ways foreigners can trade.
Also, there is a more significant percentage of strategic investors owning shares in the stock market. Since most of these strategic investors only buy shares in large quantities and hold on to them. The number of shares available for sale at any point in time on the stock market can be quite low, leaving retailer investors who bring more profit and liquidity with little or nothing to trade.
Q&A Invest in stock market in Cambodia : answers to your main questions
🇰🇭 Local brokerage vs international account ?
What is the difference between a local brokerage account and an international account? Which is better for a foreigner? The difference is quite simple. A local brokerage is where one invests in the stock market through an account opened by the local brokerage companies, abiding to the law of that country. An international account allows its residents to invest in a stock of another country. It would be safer to use an international account, selecting a company that is consistent with its laws and has been established for decades, whereas a local account is subjected to the law of the local country, possibly changing its laws from time to time.
📊 Is it wise to invest in the Cambodian Stock Market?
The stock market of Cambodia (CSX) is generally quiet. Short term investments would thus not be ideal. Long term investments may serve you better, but it is still not wise to direct all your capital into one stock, rather splitting it amongst a few.
📈 How do I invest in the CSX?
Unfortunately, there are no licensed banks that are able to trade for foreigners who are planning to invest. It is possible to invest in the cambodian stock market through a company but we would recommend you to check the different asian trackers : ETFs having a part of their shares in south east asian countries like Cambodia so you are able to invest in cambodian stock market.
💥 What else instead of investing in CSX : the smallest stock market ?
With CSX being one of the smallest exchanges in the world, is there anything interesting about it? Cambodia has been working to lift their stock market and economy by putting in place quite a number of measures, which can be found here. If you want to invest in Cambodia, you can also evaluate the way to buy real estate or open a company to sell goods or provide a service to the local market.
Wrapping up, buying Cambodian stocks nowadays
According to the last improvements made to attract more investors, we can sum up all those main by :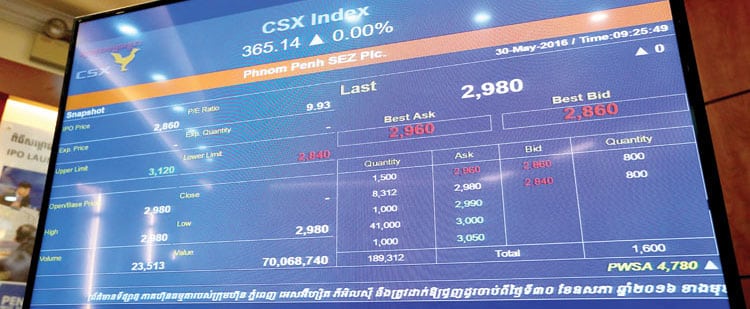 The establishment of custodian banks has helped to attract more foreign investors as this will help to provide means for foreigners willing to invest.
The foreign investors are surely getting more drawn to the Cambodian market as the CSX market cap is rapidly increasing. The data shows very promising signs.
Mutual fund markets and ETF markets are also getting fired up. The FDI and FII are increasing their worth too. Japanese and Chinese investors are the most active ones.
Foreign investment increased to about 20% in 2019 from around 7.5% in 2017. That's a phenomenal growth.
With all these improvements that have been made in the past year, there is quite an excitement on the market for the growth of the Cambodian stock market. It has even started reflecting on the market capitalization, which recorded a 58.7% increase at the end of 2019. Hence, the market is quite one to watch out for.
It seems all the initiatives taken by the Cambodian government and the financial heads are going in the correct direction and Cambodian stock exchange is really started to grow and the foreign investors are seeing it as a great investment opportunity.