As the medium of exchange, having a fair knowledge of the currency used in the country where you intend visiting or investing in, is advantageous and guides you in many ways. Due to its relationship and history the country shares with the united states, the dollar is widely used in Cambodia along with other currencies such as the Vietnam Dong as a result of the close proximity, between Cambodia and Vietnam. With just about 27 years of its existence as a country, we cannot expect so much from the Cambodia Riel and this is manifested in the exchange rate to the dollar.
As an investor or someone who is intending to move to Cambodia on business or possibly to holiday in Cambodia, it is important you know the applicable currency in the country and this will help in many ways. First it helps you to have a proper knowledge of your expenditures, and secondly it helps you to prepare in advance for your travels. Another article dedicated to the cost of living in Cambodia will allow you to estimate your expenses and budget for travelling to Cambodia. You will then know if you should have a lot of cash on you, or just travel with your cards instead.
This article will keep you on what is applicable in Cambodia, the accepted currency and issues you are likely to face dealing with currency exchanges. This article will digest you everything you need to know about money, currencies accepted and the problems you may encounter when exchanging currencies. Let's start with the currency!
This article will answers such questions as: Is the dollar used in Cambodia and what is the exchange rate ? What is the official currency of Cambodia ? Are US and foreign issued credit cards accepted in Cambodia stores and for transactions ? Is the American card accepted at the ATM machines in Cambodia and what about the fees ?
🚫 Finally, keep in mind that some scams about money are popular in Cambodia, especially when exchanging money. Be aware and learn about the kind of traps you can fall into. We will digest about them in this article so that you are well prepare and can anticipate them.
What currencies are used in Cambodia?
The Cambodia Riel is the official currency of the country and used in every part of the country, the American dollar is also largely used in the country as it is often termed the unofficial currency of Cambodia.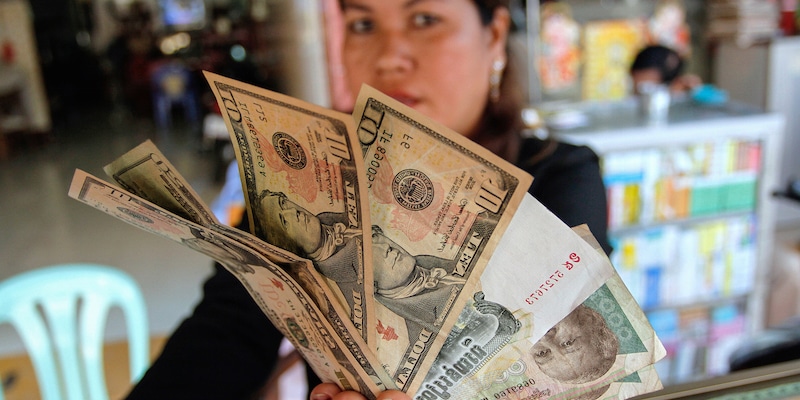 The exchange rate for the American dollar is rated at 4000 riel to 1 American dollar, meaning you necessarily don't need so much cash when visiting Cambodia as $2.5 is equivalent to 10,000 riel leaving you with plenty cash to carry around. In addition to the American dollar, the Vietnamese Dong is also accepted at border towns in Cambodia. However as a long-term expatriate or a tourist the US dollar is an approved currency of use in Cambodia.
Which currency for your daily expenses in Cambodia ?
Cambodia uses the Cambodian riel which is the official currency in the country and recognized as the means of exchange, however the united states dollar is also used widely in the country in addition to riel. The visa on arrival that is given in Cambodia is to be paid for, using the American dollar. So be sure to always have some small notes : $5, $10, $20, $50 while you are crossing borders to be sure you can pay your visa. If you do not have, they might ask you to pay in other currencies but they will charge you huge extra fees for the conversion.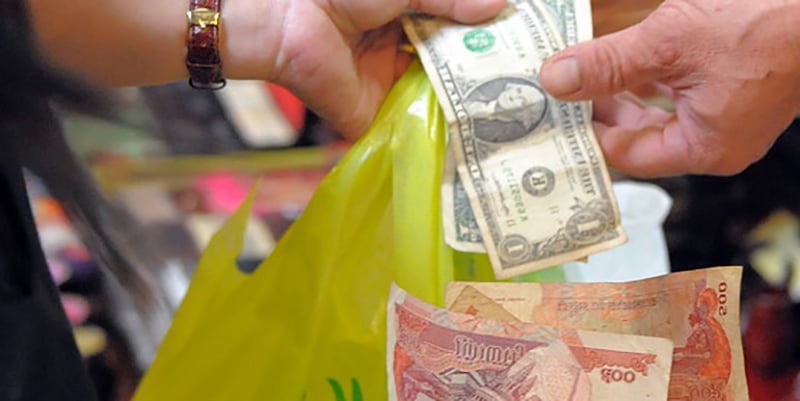 However, you may encounter some problems with the use of the US dollar in Cambodia, this is only when the dollar notes are torn or old, as these form of dollar bills are not accepted. Similarly, if you require exchange of larger sums such as $25 or more, it is hard to come by as this means carrying huge cash around.
In the countryside of Cambodia, close to the different borders to Thailand or Vietnam, you may be able to use those country currencies. Do not expect paying the exact rate as locals will always use a premium to convert and cover the money fluctuations.
But if you have extra Thai Baht or Vietnamese Dong, be aware that you can still use as some people are crossing borders often in those areas and will be willing to take your cash and use it on the neighboring country. If you are located at a border, visa fees are due in USD in Cambodia,
USD or Riel for official transactions ?
The dollar is an accepted means of exchange in Cambodia and is accepted for businesses, the wide usage of the dollar had forced some commentators to call the dollar the unofficial currency of Cambodia.
For investors the American dollar is largely used to pay for properties in Cambodia, and also can be used as a means of deposit.
The exchange rate which suffers fluctuations at times is pegged at 4,000:1 Cambodian riel to the US dollar. Leaving you with plenty cash on hand when you chose to change the dollar to Cambodia riel. It may change in the future so you can have a look to the current exact rate by typing usd riel on Google.
How to exchange or withdraw cash in Cambodia ?
All foreign credit cards or debit card are largely accepted in Cambodia and can be used for major purchases within the country. For land purchases and real estate investments in Cambodia, cash, bank transfers and even bank cards are the most commonly used means.
In some instances gift cards are said to be in use, which is not so famous yet. Credit cards can be used in Cambodia and for all major transactions.
Are american cards accepted at the ATM in Cambodia ?
The ATM machines in Cambodia accepts the united states issued cards and other country cards, however the machines pay such foreign cards with the dollar and not in Cambodia riel.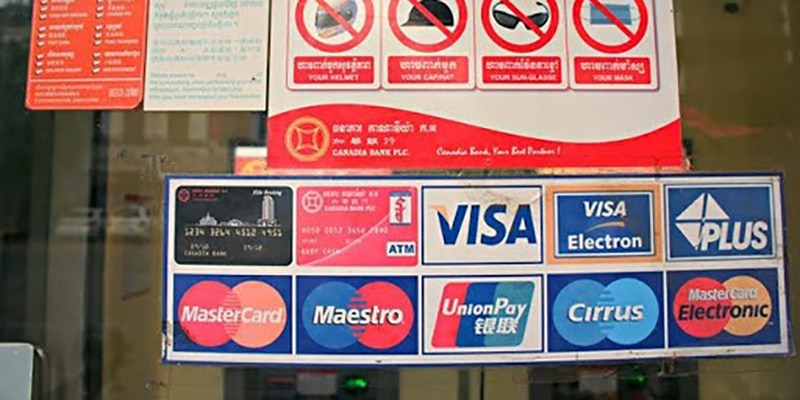 Holders of Cambodia bank cards, have the option of withdrawing cash in riel or in dollars. Cash can also be exchanged for and withdrawn at the banks in Cambodia, which makes transactions easy and quite smooth for a host of reasons. Exchanges at other such outlets other than banks and the ATM is strongly discouraged, as one can easily end up with fake dollar notes, which is not a desirable position to be in. Best bite will be to use the banks for your exchanges.
Fake money in Cambodia: what you have to know ?
It is common to be facing to fake USD note in Cambodia. If you plan to travel or live there, it is a matter that you have to be aware. When exchanges are made not from the bank but from private persons. For instance : you pay for your visa with $100 USD note and they will give you back a $50 note and some small change. Be careful about the $50 one … it may be a fake one. It is a problem happening in some bus companies, as they know you are leaving the country, they can try to scam you this way and they know you may realized it a few hundreds or miles away in another country. Who will really come back to ask and report it ?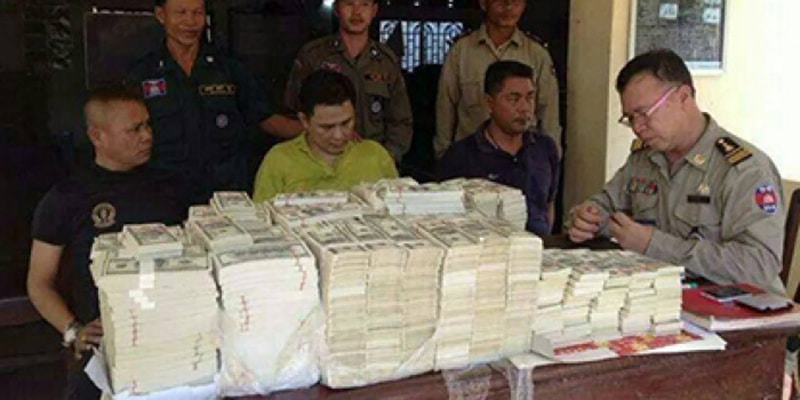 It is strongly advised to do exchanges at the banks. They are ATM machines on every tourist location in Cambodia and also every major city, leaving you with nothing to worry about when it comes to your cash. As people are highly paying by cash for their daily expenses, you will always have to keep some small notes while going around.
Where can I change my dollar notes ?
The banks in Cambodia allows for currency exchange and you are welcomed to change your dollars, to the Cambodian riel. While this system is advised, it is also good that you don't change some much dollar bills, as almost all the transactions you will be doing in Cambodia will be with the dollar. Shops and hotels accept the dollar as a form of exchange and for payment of services rendered by them, property owners and businesses in Cambodia also accept the dollar bill. So you may have no much need of converting your cash to riel.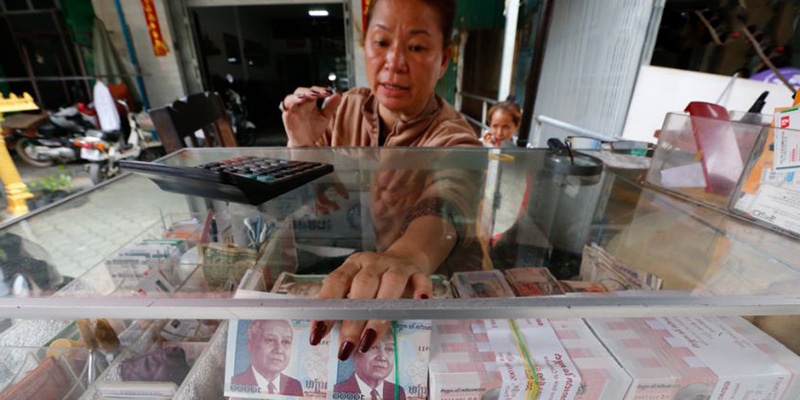 You can also change your dollar bills with the locals, using the currency exchanges other than the bank. However this system comes with associated risk, as the Cambodia has a number of fake dollar bills. While the issue is not the same for the Cambodia riel, changing Cambodian riel to dollars should be done with care, when not done at the bank.
Q&A : Money and Currency in Cambodia – Answers of the most asked questions in 2021
💰 What is the official currency in Cambodia ?
While the Cambodia riel is the official currency of Cambodia, the dollar is also widely used and very much in circulation in the entire country. Accepted for the purchase of goods and services, the dollar doubles as the unofficial currency of Cambodia. The American dollar is also an accepted currrency for exchange in Cambodia, as all stores and property owners, developers and businesses in Cambodia accept it.
🚨 Fake Money in Cambodia : be aware about scams
As we explain in detail earlier, "money relating scams" are very common in Cambodia, especially if it is obvious that you are travelling there and won't be able to report it. You may be withdrawing fake notes from unregulated ATMs or a non-legit shop may give you back fake notes as change on your purchase. If you use $50 or $100 bill, be aware and pay attention to the change you will get.
💳 Using foreign and american cards in ATM
If you're looking to withdraw cash in Cambodia, make sure you have cost-effective debit and credit cards (this applies to most countries in South East Asia). If you have traditional banks, you may face huge fees accumulate each time you are cashing out: conversion fees, currency fees, ATM fees. Some Fintech banks such as the online bank Revolut allows you to withdraw in local currency (in this case US$) and the ATM will consider your card as a local card without any conversion. Thus, you will have no fee when you withdraw cash from Cambodian ATMs, even in the countryside.
🌎 Send money from overseas to Cambodia
You may have some fees while going to the ATM to cash out some money from your international card. Especially European travellers will face conversion fees, ATM fees. One solution if you plan to live in Cambodia for a couple of months or years is to open a bank account and use a solution such as Wise (ex Transferwise) to save hundreds of dollars in banking fees.
Conclusion,
Some of the transactions paid with the united states dollar notes can be retuned with a change in Cambodia riel, meaning you cannot chose to afford not using the Cambodia riel during your stay in Cambodia. After a few days you will be used to doing the mathematical calculation to find out if the receipt is correct. We recommend that you use and spend these small Riel on a daily basis so that you don't end up one day with too much Riel that you have never used.
Everyone will be facing with this basic math calculus of mind what it means that you cannot choose not to use the Cambodian riel during your stay in Cambodia. This is because the American coin is not used in Cambodia and therefore the dollar and Cambodian riel are used interchangeably in Cambodia.
Unless you need to make high spending in Cambodia, we advise you to carry only small amounts of cash with you especially if you plan to travel throughout Cambodia. Having too much cash on you can be an unnecessary burden as the exchange rate is very favorable to the US dollar. We hope that with the advice in our article, you are now ready to make your trip to Cambodia or expatriate and that you are well wise in the issues of money in Cambodia.