With the changing trends in the world today, moving abroad has become more popular today than it was ever before. Some people want to get an education from abroad, some want to get employed while others want to enjoy the adventures in life. Many people choose to move abroad to enjoy the basic necessities at a cheaper cost. Some want to experience a change in the weather.
With the increase in globalization in today's world, people are also becoming keener to learn about other cultures, lifestyles, and explore the opportunities that come along. Many people like stepping out of their comfort zones, meeting new people, learning a new language, and therefore like to travel a lot. But before moving to another country it is important to do the research and take several things into consideration. These things mainly include understanding the culture, finding out the costs associated with the expenses in the country. Moving abroad will help you become more respectful towards other cultures.
Myanmar is a large country with a population of more than 56 million people. It consists of different ethnic groups which mainly include Chinese, and Indians, etc. Different religions are also practiced by the locals with mainly people with a background of Christianity, Hinduism and Islam. People in Myanmar are known for their friendliness and helpfulness.
Q&A : Cost of living and budget to expatriate in Myanmar – Answers to the most asked questions
💻 I need stable Internet connection for my work. Is it possible in Myanmar?
Mobile network and the Internet in Myanmar are quite developed. However, a good Internet connection with a high speed will not come cheap. Allot a couple of hundreds dollars if you need a fast Internet for work or leisure.
💰 What is the cheapest dining option in Myanmar?
Dining at cafes and restaurants might be costly in Myanmar, so if you want to save a buck on eating out, go for street food that will cost you around $2 a meal.
⚕️ Will I be able to afford good healthcare in Myanmar?
Healthcare system in Myanmar is being constantly developed, and it will always be possible to get good treatment in the country. Nevertheless, if ones has severe disease or injury, it is recommended to get medical help in another neighboring country, or in your homeland.
Some of the basic living costs of living in Myanmar are discussed as follows:
1. Living costs-rent expenses:
In one of the old areas of Yangon, Myanmar the rent expenses are quite high. In older areas of the city like the Downtown, the rent expenses range from $1000-$1200 approximately.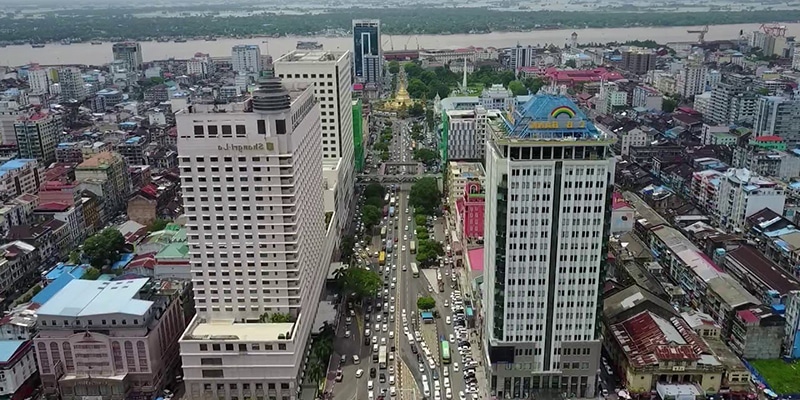 The rent expenses in newly built areas of the city range from $800-$1300. In these areas, you will also have access to the gyms and other recreational activities like golfing, pools, etc. In some areas, they might also ask for advanced rent.
2. Power and water utility costs:
There are many power outages in the city. This means that there is no electricity in the city for hours. However, in the posh living areas, there are electricity generators. The bills for electricity and water range from $90-$120, the high price ranges are due to the availability of air conditioning systems.
3. Internet expenses:
The internet and mobile network services in Myanmar have improved a lot over the years. A good speedy internet is very pricy in Myanmar. There are different packages available for example for 128GB of the Internet they will charge approximately $400. The mobile phone networks are reliable with several cheap packages available for use.
4. Eating out:
Eating out in Myanmar is also very costly. There are both national and international cuisines to choose from such as Japanese, Italian and Indian food. Eating at cheap budget-friendly restaurants will cost you around $20-$30 per meal. Whereas, eating at fine dining restaurants will cost you around $100-$150. Lastly, there is also an option to eat street food which will cost you $2 per meal. Eating street food can be unhygienic and unsafe but the government is trying to educate the people about the importance of hygiene.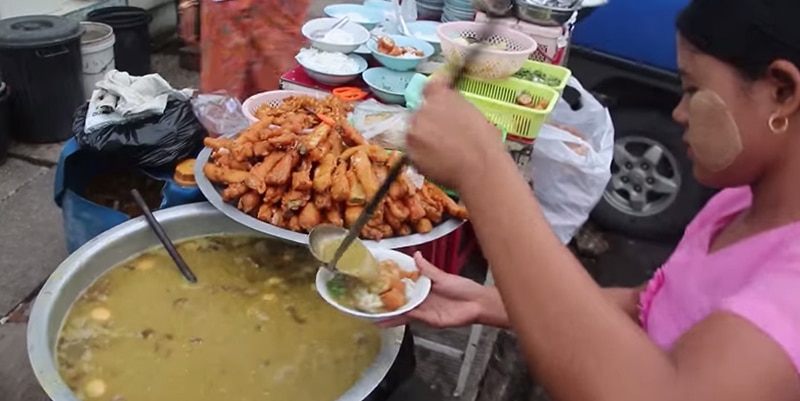 It costs $2-$3 to buy coffee from coffee shops. Drinking out at cheap neighborhood pubs will cost you around $2. The basic grocery items for kitchen like chicken, vegetables, rice, bread and cheese etc. can also be found at different stores at very reasonable prices starting from $2 for eggs till approximately $12 for cheese and sauces.
5. Transportation costs:
To move from one point to another, you can hail a taxi which will cost you approximately $8-$10 per day depending on the routes you take. Apps can also be used to order cabs. Another common mode of transportation can be through buses which will be very cheap and will cost you a dollar or less per day. However, there is a catch to the less costly rides, the buses are crowded and might not be as comfortable as a taxi. The airlines operating in Myanmar are very costly. Trains are also an available mode of transportation but can tire you out with their slow speed. The motorbikes are not allowed in the city for the safety of the people on streets.
6. Healthcare costs:
The health care services are comparatively cheaper than other Asian countries. A basic from a private doctor might cost around $30. Medicines will cost approximately $1.5-$2.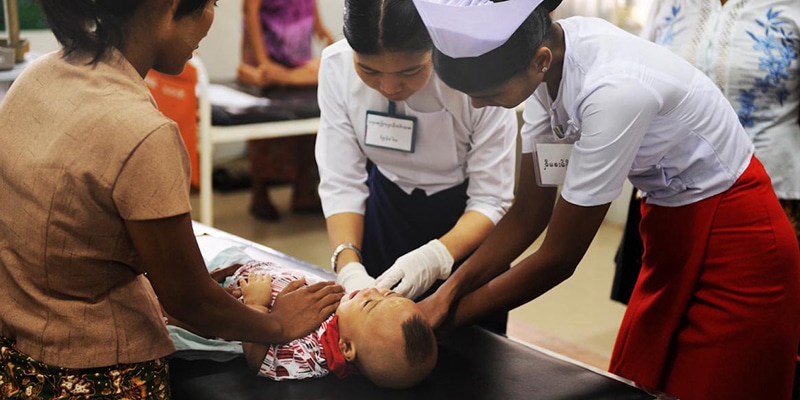 The healthcare facilities are yet to be developed. In case of serious illnesses and injuries you will have to leave Myanmar.
7. Basic necessities:
Basic necessities like shampoos, toothpastes, and toilet papers are available at different grocery shops. These might cost you around $10 in total. Fitness and gym systems charge $40-$50 per month.
8. Entertainment costs:
The costs of entertainment are very reasonable. Going out for a movie with a friend will cost you around $8-$12. Watching theater with friends will cost $30 approximately. Shopping in Myanmar has become easier as more malls have developed. Imported products are also available at reasonable prices.
Conclusion:
Myanmar is a developing country where living expenses are reasonable and affordable. However, the rent and food expenses are high. There are several options to choose from when it comes to dining out. Small grocery stores, supermarkets, and shopping malls can also be found in different parts of the country. Moving abroad will also help in learning more about the culture of the people living there which will result in greater cultural respect for others. Moving to Myanmar comes at the cost of different risks like healthcare because of the limited resources. Amongst other South East Asian countries, Myanmar is one of the most reasonable countries when it comes to living expenditures.