As we are about to discuss some really interesting facts and figures about health insurance in Myanmar if you are worried about one, before moving to Myanmar, we will first take a look at the healthcare system in Myanmar. If in one word, one has to describe what the healthcare system in Myanmar is like, it would be poor. Although it is improving a lot, the government has promised to open its treasure for the medicines, pharmacies, and hospitals, and overall the infrastructure of the health system in Myanmar that is already existing, there is still, a lot to be done.
If we see and compare the healthcare system in Myanmar with its neighbors with which Myanmar shares a lot of culture, ethnicity, and religion from centuries like India, Bangladesh, Thailand, etc. in southeast Asia, the country has. Not been doing well clearly. Until 2013, when the Burmese government decided it is going to open for foreign investors the local business scenario and industries, the healthcare industry is slowly witnessing growth. Myanmar was the last South Asian country to do so.
Myanmar spends roughly 2% of its GDP on public healthcare, given the fact that the GDP is not that much bigger either. Myanmar always sees a surge in seasonal diseases causing loss of lives and it is doing poorly in communicable diseases. Also, not only this the country does not have a private university dedicated to medical studies and research. And the government does not pay much heed. That is the main reason why the hospitals of the country are facing a grave dearth of medical staff. This is a case for both private and public hospitals.
As an expat, you are seriously advised to cover yourself and your family from good international health insurance. Though, the situation for expats is not that bad. Major cities like Yangon and Mandalay have some very good hospitals, a good health insurance is always a good idea.
Q&A : Health insurance in Myanmar for foreigners – Answers to the most asked questions
⚕️ Is healthcare system in Myanmar good enough?
Healthcare system is not as developed in Myanmar as in the neighboring countries. Although it is currently being developed, it still lacks proper treatment in case of serious or rare diseases.
🇲🇲 Is it safe to go for the most basic insurance plan in Myanmar?
If you have no chronic diseases and no need to visit doctor on a regular basis, than the smallest package might work for you. Nevertheless, we wouldn't advise saving money on your health, especially when it comes to a foreign unknown country.
🥇 Should I go for an international insurance company?
We recommend comparing the options that various local and international insurance companies in Myanmar offer, and choose the one that works best for you. Nevertheless, many expats tend to choose foreign insurance companies for extra security.
Here are a few things you need to know about health insurances in Myanmar:
Health Insurance in Myanmar for expatriates
An expat who is planning to live abroad, especially in Myanmar is most likely to be advised to be covered by international health insurance. An expat or international health insurance is health insurance that covers all the expenses related to any medical conditions you come across while traveling or living in another country. As we discussed Myanmar's public healthcare system is not that good and hence you would have to choose a private hospital and hence it can cost you a fortune for your illness.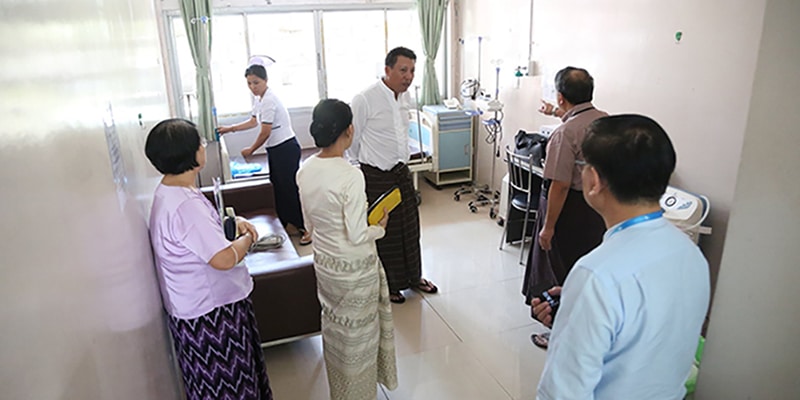 While choosing insurance you should keep in mind that what medical needs you have or you are going to need in the near future. You should plan your insurance with as much care as you are planning for that movement from your country to Myanmar. You should anticipate that you can need optical coverage or dental coverage or whether you are going to need only inpatient coverage or outpatient too.
International health care vs local insurers
International health care plans have a system to charge from their customers. Hence before buying a plan and deciding what kind of coverage you need, you should keep in mind the geographic location of the world you are going to. Especially for countries in Southeast Asia. Myanmar is one such country. You can decide whether you want to be charged regionally or Globally.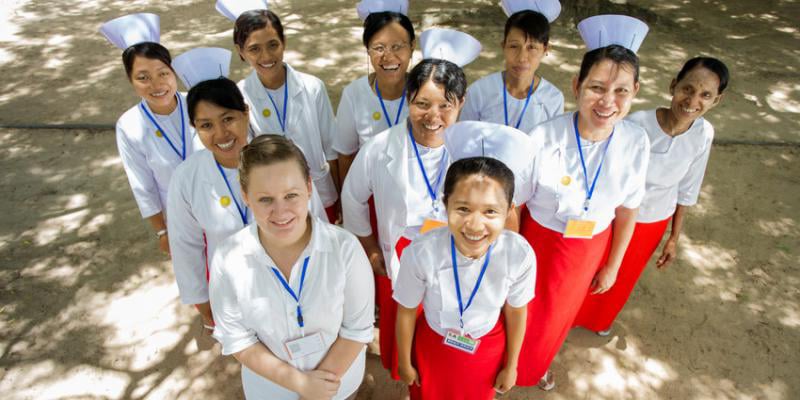 You should talk to an advisor on policy issues related to buying health coverage plans. Every health insurance plan, including for expat international health insurance plans, has a cap or exceeding the limit to which one can claim their expenses. Keeping in mind the healthcare system of Myanmar and your specific needs you should decide what limit you want in your insurance coverage.
Moving to Myanmar with your family
You may want to move with your whole family to Myanmar. It is worth it, right? You will see it. But you also need to take care of your family's medical needs. Several instance plans provide coverage for the entire family with a specified number of members in the family. These plans are customizable and can choose your amount of benefits you want from that insurance and they will charge you accordingly.
If you have a baby planned or you are pregnant, or you have delivered a baby a small time ago, there is the need for maternity insurance for you before moving to Myanmar. They will cover all kinds of pre and postnatal treatments, C section, delivery process, hospital costs, and not only this they can also cover the care or the treatment of newborn baby if he or she has a certain disease. You just have to take care of which maternity insurance you will need based on the condition of you and your bay, which means whether it is planned or conceived or has been already born.
Waiting period for some specific care
One thing is to note that maternity insurances need a moratorium period of at least 10-12 months of paid maternity coverage before they begin covering for your pregnancy, or conceiving. Hence you should plan accordingly.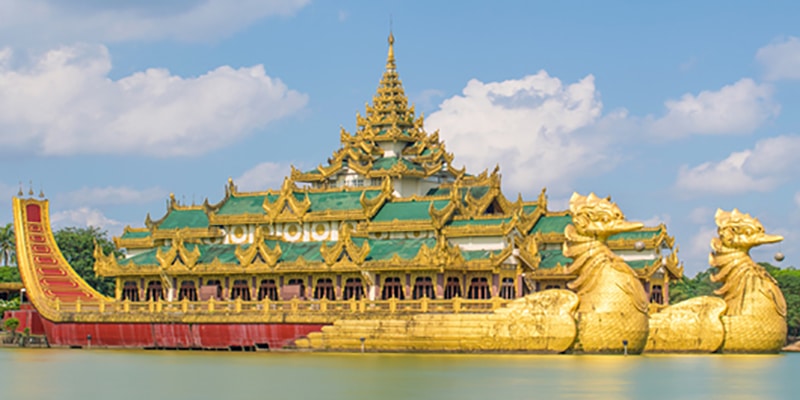 Along with maternity insurances, there are other two types of insurances as well which are Short term health insurance (STHI) and travel insurance. If you are visiting Myanmar for traveling or as a short term expat, you should keep in mind and carefully choose between these two insurancees. They both provide coverages almost the same but have subtle differences like travel insurances do not cover ore existing conditions and usually cover emergencies while STHI provides a range of plans that are customizable.
Short-term, long-term, full package coverage ?
Whether you choose international health insurance or maternity insurance or family insurance or short term health insurance or travel insurance, you should note that all the insurances also cover one pre-existing condition of yours. The definitions of these pre-existing conditions definitely differ, but you should clearly mention all your medical history about your pre or current medical conditions so that the insurancee may cover it as well when you move to Myanmar.