Vietnamese coffee is one of a kind, with extra strong and savory, it sells like hot cake both locally and abroad. Coffee lovers, who have toured Vietnam, found their coffee pulse rising every time they tried Vietnamese coffee. It is not easy to put a cup of coffee back on the table, once you take your first sip. The smack of flavorful and musky coffee will take you literally to the sky and back. No wonder, the people of Vietnam are always friendly and welcoming.
The French explorers must have set the ball rolling for the manufacturing of coffee in Vietnam. But the people of Vietnam took the whole production of high quality coffee to another new level. Coffee is now part of their lifestyle. If you have not tasted "Ca Phe," then your day hasn't started yet in Vietnam.
The people of Vietnam have developed a tang of their own with the introduction of coffee variations, including eggs, fruit and yoghurt that are becoming a sensation for coffee aficionados in the country.
But the question is: what makes Vietnamese coffee so flavorsome?
Some baristas will argue it is because of the filter drips. However, the traditional roasting process essentially makes for the distinctively strong taste. Some Vietnamese add some rice wine, salt, and butter. This is why the slow filter drip coffee can spot a slight oily texture in your coffee. Some coffee barristers in Vietnam add an assortment of flavors, for example, chocolate or caramel, that lifts a whiff in the coffee.
🌏 Located in Ho Chi Minh City, Vietnam we have been able to assist a large number of foreign clients, in sourcing and exporting agricultural products like coffee, cashew nuts, and pepper from Vietnam. We understand that each product has unique specifications, quality requirements, and desired certificates. That's why we use our expertise to identify suitable farmers, cooperatives, or traders in Vietnam who can meet your specific needs.

🔍 Our team can start looking for potential sources on the ground within a week of receiving a detailed brief of your product search. If you're planning to source agricultural products from Vietnam, we encourage you to get in touch with us. Share your product specifications, MOQ, and countries you wish to import to, and we'll provide you with some hints on how to get started and support if you need assistance 🤝.
Interview with an SCA's coffee enthousiast
In this interview, Movetoasia invites a coffee enthousiast who owns his coffee shop, his coffee brand and who has been involved in the coffee industry for several years. Jackie tells us about Vietnamese coffee and the various aspects: quality, sourcing, processes and export so you can learn more about the subject.
In this video you will find out more about :
The processes used by farmers in Vietnam to improve the quality of coffee cherries;
How it is possible to obtain quality robusta and arabica coffee beans in Vietnam;
Working with farmers in Vietnam to source premium coffee beans and export;
And more information if you are a coffee lover, foreign coffee shop owner or an entrepreneur who want to source and export coffee from Vietnam.
Background and Statistics of Coffee Exports in Vietnam
For the past few decades, the manufacturing of coffee in Vietnam has turned out to be a significant export industry. Reports indicate that Vietnam is ranked as the second largest coffee producer in the entire world. Vietnam exports about 95% of its coffee produce, which amounts to billions of US dollars in revenue annually.

Coffee was first brought to Vietnam in the year 1857 by the French. Coffee was found to thrive in the country due to its favorable climatic conditions. In this regard, the production of coffee became the order of the day and by 19th century, Vietnam was doing large scale coffee production. Soon, in 1920s, Tay Nguyen, which is located in the central highland region of Vietnam, was established as the most preferred location for planting coffee. The area was earmarked for coffee production.
One factor that has led to the growth and production of coffee in Vietnam for exports is the government's intervention in this industry. The government of Vietnam, in the year 1976 supported the migration of people to sparsely populated areas, for example, the Central Highlands. This was a means to foster the growth of employment in the country and get rid of social unrest. As a result, this region had an increase in population of up to 4 million people, who acted as the workforce that the coffee manufacturing companies needed in the farm lands. This led to the rise of coffee growth and exportation.
The government of Vietnam continued to favor market liberation as well as land reforms, which was a huge benefit for coffee farmers in the Central Highlands. This multiplied the production of coffee for export. Equally, the government of Vietnam declined to control the price of coffee by 1990s, but instead controlled other sectors, such as the rice production, which allowed many farmers in the country to move to coffee production in search for higher profits coming from global markets.
By the year 2016, the coffee production rate had grown to about 1.76 million metric tons. Most of all, about 95% of this coffee production is exported annually. On the same note, the secret to success of the coffee of Vietnam is the production of Robusta coffee, also referred to as, "Coffea Canephorain" Vietnam. This is a far-easy to grow and produce as compared to Arabica coffee, with minimal production costs.
Following the success of coffee growth and production in Vietnam, several coffee manufacturers ventured into this industry to benefit from the exportation profits. For example, Starbucks first established its coffee manufacturing store in Vietnam in the year 2013, further triggering a rise in the number of other brands joining the Vietnam coffee export business.
In the year 2017, Boncafé, a producer of gourmet café, opened a hi-tech store in Ho Chi Minh city, to produce and export coffee overseas.
Following the opening of many coffee manufacturing and exportation stores in Vietnam, Vietnamese coffee is currently available in retail stores, supermarkets and cafes globally. The Vietnamese coffee has since seen an expansion of its local coffee brands to international markets. It is now competing with other brands internationally, leaving a mark in the world rank of coffee consumption globally.
Q&A Coffee in Vietnam: type, quality, production, export
☕ Why is Vietnam's coffee industry so well-developed?
Vietnam is considered to be one of the world's leaders in coffee production having around 500,000 hectares that bring thousands of tons of high-quality coffee beans. Though Vietnam's coffee industry gets stable support from the state, the market remains liberal which makes it a profitable investment opportunity for foreign institutions. In addition, Vietnam offers favorable climate conditions that boost coffee growth and production year by year.
🌏 Is Vietnam coffee used locally?
Yes. Some of the Vietnamese coffee that is not exported to other countries (around 5%) is used locally in cafes and restaurants. Tourists as well as locals enjoy drinking traditional Vietnamese coffee drinks, and at the same time experimenting with new taste combinations.
🤑 How much coffee is exported from Vietnam?
Vietnam is currently on the second place among the top coffee producers in the world. More than 26 million bags a year is exported to other countries, such as the US, Germany and Italy.
🏞️ Is Vietnamese climate appropriate for coffee?
Absolutely. The combination of subtropical climate in the North and tropical climate in the central part and South provides favorable conditions to grow coffee and helps Vietnam remain one of the leaders on the coffee production market.
🧐 What kind of coffee beans are grown in Vietnam?
Vietnam is mainly famous for its tender Robusta coffee accounting for over 95% of the total output, while the remaining 5% is made up by high-quality Arabica coffee.
Types of Coffee in Vietnam
Vietnamese coffee has outdone the ordinary cup of coffee that is served in next door restaurants. It is no longer a simple drink because its rich quality has overtaken the typical cup of coffee found in many shelves. Far from being scrumptious, it is common to find many types of coffee served in traditional coffee houses around town.

The following are some of the most-coveted coffee types in Vietnam that you can sample when traveling in this beautiful country.
"Ca Phe Nau"/"Ca Phe Sua"
Many coffee lovers in Vietnam and abroad drink the dark, strong coffee that is blended with candy-coated with milk, a trend that was started by the French, who could not get fresh milk. Till now, fresh milk is not considered as an essential ingredient of coffee making in many traditional bars and restaurants. This type of coffee, which is served hot or cold, is referred to as "Ca Phe Nau" (brown coffee) in the North of Vietnam, while, in the South of Vietnam it is referred to as "Ca Phe Sua" (milk coffee).
"Sua Chua Ca Phe"
Similar to coffee, yoghurt was primarily introduced to Vietnam by the French colonialists, and since then, it has been accepted as part of the gastronomic tradition. It is characterized by a rich and buttery-smooth taste and is served with an assortment of toppings, such as fermented rice, mango or coffee. It may sound odd for the first time, but those who have tasted it, claim that the rich yoghurt sets perfectly well with a rivulet of black coffee. You only need a little stirring.
"Ca Phe Trung"
Egg coffee may be an out of the ordinary kind of drink, but for sure, this is a special coffee drink in Vietnam. It is prepared by whipping egg yolk with think milk into an airy fizz that meets dark coffee. This is a brainchild of the coffee brewers of Hanoi in Vietnam, which started in 1940s. This was the time when milk was hard to find. Therefore, egg yolks offered a great alternative for milk. To date, many coffee cafés have adopted this coffee and they still serve egg coffee with new varieties bordering on the egg yolk blend.
"Ca Phe Cot Dua"
Ca Phe Cot Dua is a coffee type was common among the youth of Vietnam in a couple of years back. It is prepared by serving black coffee with a splash of condensed milk, blended with coconut milk and ice cubes.
"Sinh To Ca Phe"
This is described as smoothie that is prepared as a creamy mixture of fresh fruit with a drop of Vietnamese coffee. It is also mixed with yoghurt or cashew nuts. The people of Hanoi also love preparing a blend of coffee and banana, including avocado. Whereas the coffee lovers of Ho Chi Minh City blend coffee with sapodilla, which is a tropical fruit that has a custard-like tang. These are flavorsome ways of getting your caffeine fix and vitamins in one cup.
Coffee Regions in Vietnam
Coffee in Vietnam is produced mainly in the following regions: Central Highlands, North Vietnam, and South Vietnam. These regions are known to have favorable climate and weather conditions that are ideal for farming coffee. Particularly, the Northern side of Vietnam experiences subtropical humid climate, while the central and south central regions experience tropical monsoon climate. The central and southern regions are characterized by tropical savannah.
Moreover, these regions experience comparatively heavy rainfall that is perfect for growing coffee. Rainfall is experienced all through the year, ranging from 1200 mm to 3000 mm and with annual temperature that range from 5 degrees Celsius (December – January) and 37 degrees Celsius (April – May). On top of the favorable climate and weather conditions in Vietnam, the country has the perfect lands for agricultural produce, including coffee.
How Coffee is Produced, Processed and Stored in Vietnam
The top secret about the quality of the coffee served in Vietnam is hidden in its unique method of production, processing and storage. The production process and the blend of coffee beans give Vietnamese coffee its distinctive taste and aroma. A lot of Vietnamese coffee beans plantations are found in Da Lat, which is christened the "Europe of Vietnam." This is owing to garden-fresh climate and hilly landscape with the right temperatures for the growth of coffee.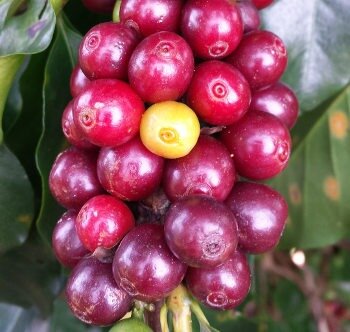 Robusta coffee is known for having high caffeine content and is also resistant to pests and diseases. Producers of Robusta coffee have mastered the art of balancing fertilizer and water supply to improve on yield, without dampening the health of the coffee plant. This is a great advantage of Robusta coffee as compared to Arabica coffee. If it were Arabica coffee, the drastic changes to inputs, such as fertilizer and water supply could easily damage the health quality of the coffee plant, further reducing yield.
The manufacturers of Robusta coffee in Vietnam have learned that it is pretty easy to store and transport this coffee than Arabica coffee. In this regard, they only incur low costs of production and processing, without affecting the quality of the exported product. This is because Robusta coffee does not rely on a lot of storage requirements as compared to Arabica coffee. Arabica coffee requires more expensive means of handling and storage, such as extremely cool weather settings. Besides, Arabica coffee grows in subtropical regions at about 1800-3600 feet above sea level. This also includes tropical regions of about 3600-63000 feet above sea level.
Robusta coffee is comparatively tolerant to heat levels. It is cultivated at sea level of about 3000 feet and in the tropical regions. The perfect temperatures for Robusta coffee range between 24 degrees Celsius and 30 degrees Celsius, whereas the perfect temperatures for Arabica coffee is between 15 degrees Celsius to 24 degrees Celsius.
Exportation of Coffee in Vietnam
Vietnam focuses more on Robusta coffee, which amounts to a larger percentage of its coffee exports as compared to Arabica coffee, which takes a significantly small percentage of coffee exports in Vietnam.
Robusta is the key cash crop in Vietnam, and farmers are beginning to see a rising trend in the export rate, especially in the year 2019 and 2020.
Arabica coffee export in Vietnam accounts for merely 4% to 5% of Vietnam's total coffee production. As well, the planted area of Arabica coffee accounts for only 6% of the entire region. In this regard, Arabica coffee exports in is facing a lot of challenges when it comes to transportation, storage and processing. The future of exports of Arabica coffee in Vietnam is not promising as compared to Robusta coffee that is picking well over the years.
The exportation of Vietnam's coffee in the year 2019 and 2020 is estimated at about 28 million bags. This includes roasted, grounded as well as instant coffee. This is pegged on rising production rate in Vietnam and ending stocks.
Vietnam continues to export coffee products to countries, such as Germany, Italy and the US. These three countries remain the top buyers and consumers of Vietnam coffee. Despite the fact that the year 2018 and 2019 experienced a low exportation rate of about 13 million bags of coffee products, the year 2020 and beyond appears even more promising with increased production. Farmers, following this drop in export prices, decided to keep stocks as they expect higher export prices in the coming years.