So you have decided to move your whole life to Vietnam. Maybe you have been there as a tourist and really loved the city or maybe you are just curious and really looking for a change. Whether you have been there or not, the next big step you need to take is to figure out which city you would like moving to.
The city you would choose really depends on what you are looking for and your personality. Would you want to live somewhere close to the sea or the mountains? Maybe you would prefer to still live in an extremely modern city which has most of the amenities you are used to back home. Do you want to live somewhere with places to party hard or you want a relaxing place suited for families? Do you want to have a big expat community or really want to stay in touch with the locals? All these will play a huge part in you choosing where to move.
Things to Consider When Choosing
Mindlessly Googling and looking at various people's opinions and experiences can be overwhelming and sometimes almost futile. Although looking at other people's experiences is a good way to gauge each city, you should first look within and see what you want in a city. After all, you would not completely enjoy the area if it does not fit your personality.
🎥 Video: where to live in Vietnam ? The best cities !
This is the question asked by many 'future expats' who want to move to Vietnam. This is why I wanted to introduce you 5 of the best cities to consider as destinations where to expatriate.
The video will be suitable to all future expatriates: young people looking for opportunities, future retirees who want to find peacecul and quiet area, and even for those who just want to be close to the beach to improve their quality of life.
The Landscape
Personally, I am the type of person who really cannot live in a sleepy town or a small town. I prefer a big city which is bustling and has a lot of things happening. This was definitely one of the things I struggled with the first time I moved to Vietnam. I lived in a really small city my first few months and although I loved the scenery it was clear to me that I cannot live there long-term. If you are like me, then you should definitely move to Ho Chi Minh City or Ha Noi.
Some of my expat friends really prefer the countryside. They like to be close to the sea and mountains. This is usually a huge flip from where they live back home. Being close to the sea means that they can swim and do watersports like surfing and kite surfing. If you want to live near the ocean and still have a city vibe Nha Trang would be your best choice.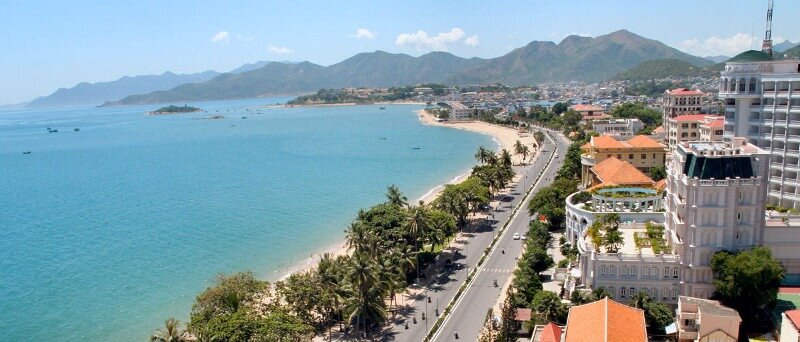 But if you want something which has a local fisherman village vibe then Mui Ne is a nice area. As for mountains, Ha Noi is still a top contender.
Opportunities
Once you have the landscape you prefer figured out, the next things to look at are the opportunities available for your profile. Of course, most of us would still need to work in order to pay the bills.
If you are an aspiring English teacher, then you should definitely look at the concentration and availability of English centers in various cities. Of course, Ha Noi and Ho Chi Minh will always have the highest concentration of centers. These two cities will also have the most competition for you. Other up and coming ESL cities are Nha Trang, Hoi An, and Da Lat. If you want to know more about how to become an English teacher in Vietnam, here is an article dedicated to just that.

Of course, not everyone who moves to Vietnam is an ESL teacher. There is also a rising amount of Digital Nomads who choose to reside in this country. Being a Digital Nomad means that you rely heavily on using the internet. Luckily, most of Vietnam has a high-speed internet connection. This is perfect for those who prefer to work at home. For those who still want to have an office vibe or be surrounded by people, you can get the same feeling doing you work in coffee shops and coworking spaces. As the land of coffee, cafes with internet are not that hard to find but most coworking spaces are found in Ha Noi and Ho Chi Minh.
Lifestyle
The lifestyle you want to have is something you should also heavily consider when choosing where to move in Vietnam. If you want to have a huge expat community with a great party vibe then Ho Chi Minh will suit you the best. Nature lovers would definitely appreciate smaller towns more. History buffs will fall in love with Hoi An and Hanoi. Those who want a home base which has easy access to airports should choose to move in a city with an international airport. This will also allow you to get cheap tickets without having to travel far to fly.
You should also consider your budget when considering the lifestyle you are comfortable with. Like in any country, some cities are more expensive than others. To have a more detailed look at the cost of living in each city, take a look at this article.
Top Cities To Move To
Vietnam has 58 provinces and these provinces have various cities and municipalities to live in. Considered as the 19th most populated country in the world, you would not have trouble looking for a place to live. But among the various cities and municipalities, there are 10 that I recommend due to various reasons such as the number of existing expats as well as the ease in transition.
Hanoi
Hanoi is the political capital of Vietnam. It is a great choice for people who are looking for something modern but still has some cultural and traditional elements. Hanoi also has a smaller population compared to its more metropolitan sibling, Ho Chi Minh.
A lot of tourists get attracted to Hanoi due to its close proximity to the Halong Bay which is considered as one of the Seven Wonders of the World. This is also a thing to consider when moving there. Those who want a cultural experience but with all the modernity still there should choose to live in Hanoi. It also has an expat community and they mostly live in the Tay Ho or Dong Da districts.
Landscape: Historical but modern, close to the mountains of Sa Pa and the Halong Bay
Opportunities: Various English Centers, Fast Internet Speed (55 MBPS on average); many cafes and some coworking spaces
Lifestyle: Cost of living is 600 to 900 USD, Nightlife is not as crazy as HCMC with most establishments closing at 11 PM
Ho Chi Minh City
If Hanoi is the political capital, Ho Chi Minh City is considered the business capital. With this, comes a lot of modernity. There are various tall skyscrapers and the usual hustle and bustle you would normally see in a big city. This city has its own charm. It is a great mix of the east and the west with the all the high rise buildings, temples here and there, and of course the thousands of motorbikes on the street.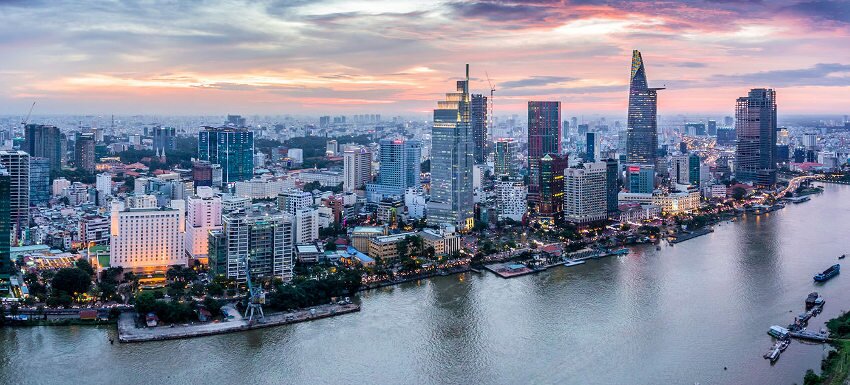 The best thing about this city is that you will never run out of things to do. From interesting cafes to bars which are open all night, you will definitely enjoy this town if you are a social butterfly. Another great thing about it is its ideal location. You can get a cheap flight from this city to almost anywhere in the world. Buses are also cheap and can get you as far as Cambodia and even Thailand.
As the most populated city, it also has a lot of expats. Most of them live in Binh Thanh, District 1, 2, and 3, Thao Dien
Landscape: A Modern city with some cultural aspects, Mekong River runs throughout the city.
Opportunities: High concentration of English Centers, Fast Internet speed (25 MBPS on average), many cafes and coworking spaces
Lifestyle: Cost of living is 700 to 1,300 USD, bars and other establishments open till late night
Living in Saigon as an expat is great. If you want to discover all the other aspects of the life there as an expat, feel free to download your copy of our e-book sharing about all those topics specialised for foreign expats.
Click here to ask for the copy of our e-book
Hoi An
Hoi An is often regarded as the most beautiful city in Vietnam. This ancient city used to be only popular for a quick weekend but now it is gaining popularity as a city to move to.
This city is calm and small. Making it a great choice for someone looking for something chill and not a place where there is too much going on. There are also various beaches close by. If you get tired of the small city landscape, Da Nang, which is a bigger city, is just a 30-minute drive away.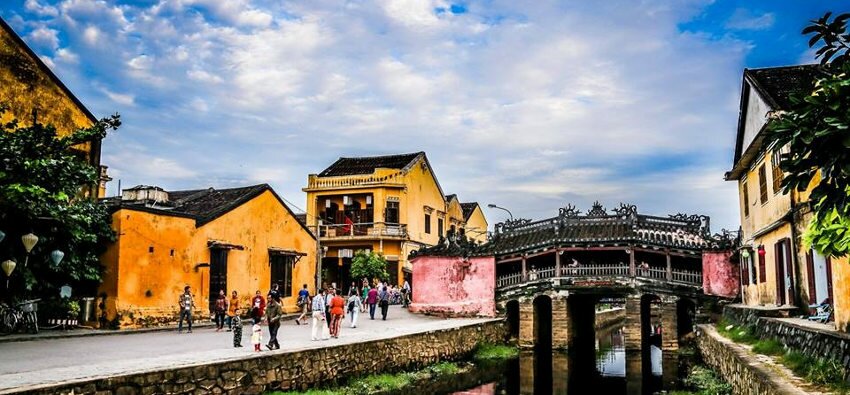 Landscape: Cultural and close to nature, more a quiet and sleepy town
Opportunities: New English Centers opening up, Moderate internet speed (20 MBPS on average), various cafes throughout the city
Lifestyle: Cost of living from 550 to 1,200 USD a month; Lively nightlife with establishments open for most of the night
Nha Trang
Nha Trang is a great coastal city which is just recently gaining popularity among the expat community. It is still mostly a tourist town with various tourists flying from everywhere. This means that you will have many restaurants and bars to choose from if you move there.
This coastal town is a great combination of city and country life. It has many high rise hotels and resorts but you still have the sea and the mountains close by. This is a perfect choice for someone who would want the best of both worlds. Nha Trang also has its own international airport making it easy to go in and out of the city.
Landscape: Moderate city life vibe, a coastal town with the mountains on the other side
Opportunities: Some English Centers, perfect for dive instructors, Moderate internet speed (20 MBPS on average), various cafes and restaurants
Lifestyle: Cost of Living is from 400 USD per month; Lively nightlife
Da Nang
Everyone who has been to Da Nang can tell you that it is a city unlike most in Vietnam It is cleaner and more organized. This city is a great place to move to if you love being surrounded by water. It has a beautiful coast and the Han River also runs across it.
The great thing about this city is that there aren't as many tourists compared to the cities above. Most of the people there are locals so if you want a true Vietnamese experience then moving here will give you just that. The lower number of tourists also means that it is cheaper than most cities on this list.
Landscape: Coastal town, with the river running across, local vibe
Opportunities: Medium internet speed (up to 20 MBPS), cafes across town
Lifestyle: Cost of living is from 500 USD, there are various bars and casinos open till late night
Da Lat
Da Lat is a city 5000 feet above sea level. Its geographical location makes cooler than most of the country. In fact, it used to be the vacation spot for French colonists who wanted to cool down from the tropical temperature. The all year round cool temperature in Da Lat makes it attractive for expats who are not that used to the hot weather.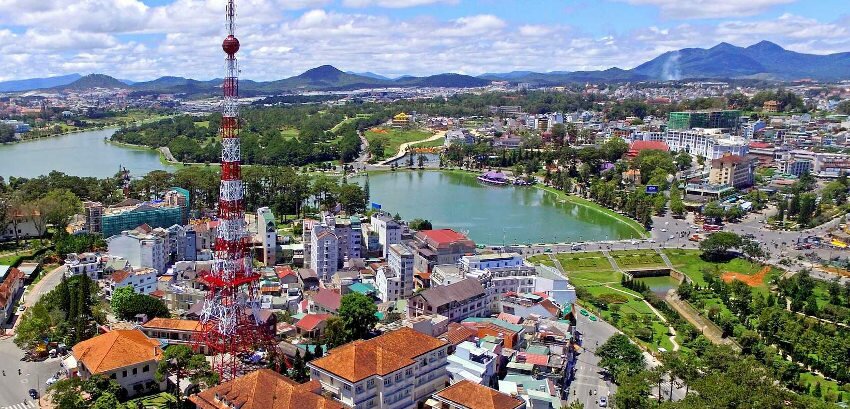 Among all the cities in Vietnam, this is one where you can really see a lot of French influences. This characteristic makes it a great choice for someone who wants to ease into Asia and still be surrounded by familiar architecture especially if you are from Europe. Da Lat is also a coffee lover haven with various plantations surrounding the city you will have plenty of coffee types to discover.
Landscape: Mountain region, cool weather, local vibe
Opportunities: Moderate internet speed (16 MBPS on average), various cafes
Lifestyle: Cost of living is 500 to 1,000 USD per month, decent nightlife but not open very late
Mui Ne
Mui Ne is a quiet coastal city with a lot of potentials. It is starting to capture the interest of tourists since it is only a couple of bus stops away from Ho Chi Minh City. If you are considering opening your own bar or guest house, this could be a great place to do that. There are not a lot of establishments yet and the demand is high at the moment. This city is also perfect for those who would want to do water sports like kite surfing. There is also a popular sand dune nearby which is worth a visit.
Landscape: Coastal town, mountains nearby
Opportunities: Slow internet speed (up to 10 MBPS), some cafes
Lifestyle: Cost of living is from 500 USD a month, late night bars are gaining popularity
Conclusion : Where Should You Live as an Expat in Vietnam
Knowing what you want and need is important no matter where you are relocating. You need to consider the basics such as internet speed if you are a digital nomad and availability of jobs if you are an expat. The great thing about Vietnam is that no matter what you are looking for, you will surely find it in the various cities in the country.
If you have other cities you want to suggest or if you have specific questions, please comment them below. We also have various articles which will help your transition to living in Vietnam smoothly.
More questions about living in Vietnam ? Download the e-book designed for expats