Wherever you might be looking into moving, the cost of living is one of the first things that you should look at. I remember when I was making my last few steps in deciding to move to Vietnam, I went to various sites to look at how it compared to my home country. Knowing the cost of living in a place is not just useful in making sure you have enough for the first few weeks you are there but also in making sure the salary you will earn is enough to live there.
As a Southeast Asian country, Vietnam is quite cheap compared to Western countries. Your money from home will for sure go a long way here. Lots of remote workers purposely choose to live in Vietnam for this reason specifically among others. Note that no matter how cheap a place is, if you do not control your expenses you might still end up spending as much as you would back home.
What is the cost of living in 2022 in Vietnam? I have received this question dozens of times through private messages and comments. I'm talking about people who want to stay several months and live there: looking for a job, starting a business or just coming to have some good time.

To answer this question, you will find my video below and this complete guide which gives you costs breakdown and updated prices in 2022 concerning the budget and the monthly expenses of living in Vietnam.
You should also note that the cost of living may differ from city to city. Bigger and more known ones like Ha Noi and Ho Chi Minh are naturally more expensive to live in compared to a smaller town. Given this, I will try to give you an average price to conserve accuracy and I also included an average cost of living per major city. Below you will see a breakdown of costs for the most common expenses you will have while you are there.
Monthly expenses and costs breakdown in Vietnam in 2022
The monthly budget to live in Vietnam as an expat can vary a lot depending if you like to travel, hang out and do plenty of activities. Nevertheless, in the following tables, we are providing you a fair perspective about how much it costs per month to live as an expat.
In this video, you will discover the updated about cost of living in Vietnam in 2002. What is the monthly budget for living as a foreigner? How much does it cost to live as an expat? We talk about all aspects of an expat's life: housing, visa, scooter rental, entertainment, food, travel, etc…
Common monthly expenses in Vietnam
| MONTHLY EXPENSES | PRICE (in US dollars) |
| --- | --- |
| Apartment (1 bedroom) | $400 – $600 |
| Apartment (2 bedroom) | $650 – $1,000 |
| Basic (Electricity, water, Cooling, garbage, heating) | $70 |
| Simple entertainment (Cinema, fitness, cafe, … ) | $200 – $300 |
| cellphone | $3 – $5 |
| Internet | $12 |
| Cable TV | $7 |
| Food (shopping only) | $150 – 250 |
| Food (at restaurant) | $500 |
| Transportation | $20 |
| Groceries | ~$70 |
| Total | $900 – $1,400 |
Visa costs for Vietnam
| COST | PRICE (in US dollars) |
| --- | --- |
| Single-entry visa (*) | $45 |
| Multiple-entry visa (less than 3 months (*)) | $50 |
| Health insurance | $50-300 |
(*) : Single and multiple entry visas are not yet available as the border is still closed for foreign tourists. Experts, Investors and Business owners can enter the country with some specific requirements.
2022's pandemic-related expenses
| COST | PRICE (in US dollars) |
| --- | --- |
| Real-time PCR test | $40-50 |
| Quick test | $8-15 |
| Government-run quarantine facilities | $5/day |
| Quarantine hotel | $110-150/day |
Accommodation
Your apartment whether its flat-sharing or your own studio/1 bedroom would be the biggest cost you will have every month. The great thing about the main cities in Vietnam is that it will usually have everything you would be looking for.
| Description | Cost |
| --- | --- |
| A room in a shared apartment | From $150 to $300 (depending on the location) |
| Modest apartment | From $200 to $500 |
| Large apartment | From $400 to $1,000 |
| Small house | From $250 to $800 |
| A villa | From $1,000 to $5,000 |
You are spoiled for choices, from cheaper rooms in a local area to a five-star condominium similar to what you can have at home.
The cost really depends on your preferences. If you are not too picky and would be willing to settle for very basic accommodations, you can rent a very nice room for as low as $200.00 a month. You can easily find people looking for new flatmates on various Facebook groups. This is also a good way for you to have your first social circle when you move. If you want more privacy and prefer somewhere with a swimming pool and a gym, then you should be prepared to pay as much as $1,000.00.
Most of the time, electricity is included to the rent. Other services may also be included like water and a lot of places also have cleaning ladies who keep the house clean. However, you should take note that electricity bills are usually around 3,000-4,500 VND per KW. Make sure that you are not paying more than this.
Food
The food in Vietnam is very cheap. You can definitely get a meal for around $1.00. You also have various choices and the supermarket has a lot of choices for those who want to cook.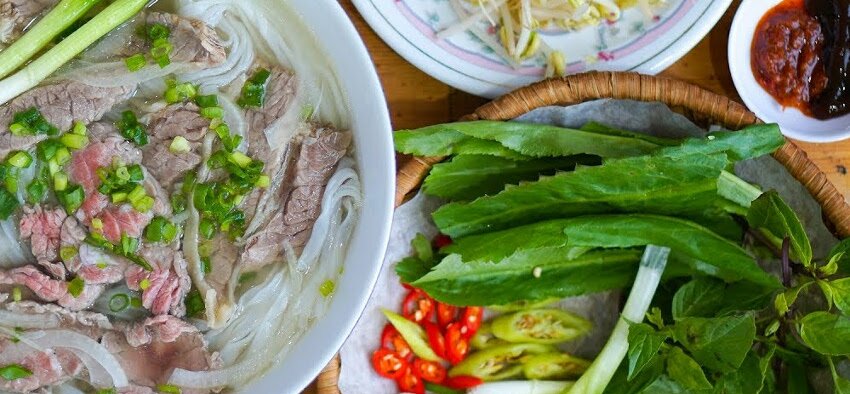 Personally, I usually do not cook that much. It's not because I am not fond of it but it's generally because the cost is not that much different if you eat out, especially since I live alone. As I have mentioned, eating out can cost as low as $1-$2 in the shacks on the street. I know that a lot of expats, specifically those that come from the west, are a bit iffy about the sanitation of these places but I have not had any problems as of yet. If you want to eat at fast food chains, meals can be anywhere from $2-$4. Sit down restaurants with Western cuisine starts from $6.
| Description | Cost |
| --- | --- |
| 1 kg of potatoes | $1 |
| One Banh Mi (bread) | $0.5 |
| A chicken | $0.5 |
| 1 kg of rice | $1 |
| An imported French cheese | $7 |
| A bottle of local beer | $1 |
| A bottle of Bordeaux | $15 |
| A bowl of noodles on the street | $1 |
| A dish at a local restaurant | $2 |
| One dish at a mid-range restaurant | $5 |
| One dish in a luxury restaurant | $20 |
For those who would like to cook their own food, you can expect to shell out anywhere from $1-$3 per meal. Cooking in bigger batches and storing them for the future is also a way for you to save more time and money. If you want to save as much as possible on food, rice, pasta, and vegetables are the cheapest things in the market.
Transportation
The usual transportation in most Vietnamese cities are motorbikes. You can easily rent a motorbike in various places in most major cities. Renting a bike per month can be as cheap as $40 with deposits starting from $200. Oil is not expensive at all so the monthly price for your bike would not be so high. If you are staying in the city for a longer period of time or if you would rather have your own bike, you can get a second-hand bike from $250-$350. It would also not be so hard to resell it in case you will be leaving already.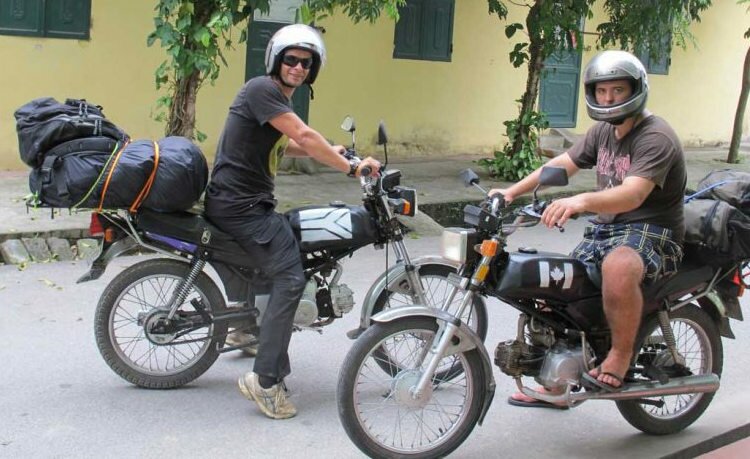 If you are not so comfortable with driving your own bike, there are other options. There are normal metered taxis you can flag down in the street. There are also ride-sharing apps like Uber and Grab. The great thing about Vietnam is that your ride-sharing options are not limited to cars, you can also hop on a motorbike to beat the traffic.
Description
Cost
Honda Airblade

Purchase : $2,000
Rental : $50 per month

Second-hand used Scooter
Purchase from $250-500
Taxis
$0.5/km
Now, you would not be staying in the city all the time. There is so much to explore within Vietnam and neighboring countries that are not so expensive to reach. A bus to another town can cost around $7 one way to Nha Trang ou Dalat. You can also ride a bus to neighboring Phnom Penh, Cambodia for as low as $10 (this is the cheapest bus so do not expect so much when it comes to comfort). Buses can also take you to Thailand for $35-$40.
If you are like me and sitting for long periods of time is not your thing, then budget airlines are your friend. I once booked a flight from Ho Chi Minh to Nha Tang for only $20 round trip. While international flights could be a bit pricier, they still would usually not be more than $50-$100.
Living in Vietnam as an expat is popular for retirees, young students, business owners. Feel free to get your copy of our e-book helping expats moving to Vietnam.
Click here to get your free guide to help you moving to Vietnam
Communication
The great thing about our world today is that no matter how far you are from your loved ones, you can never really feel completely absent. With the various social media apps and sites which allow us to chat, call, and video call our loved ones back home, you will undoubtedly be updated on what is happening to their lives. It would, of course, be hard to stay updated if you do not have internet or a mobile phone plan. Good thing that in Vietnam internet and mobile plans are easy, cheap, and very efficient.
Mobile Phone
Choosing the company you will subscribe to depends on what you need in your plan. Take note that plan prices in Vietnam are controlled by the government so there is not that much different from one brand to the next. What may be different is the amount of data you can get and the service (especially in smaller towns).
Personally, I did not get a subscription to any brand. I just got a data sim card and I re-loaded it whenever necessary. You can find the different promotion codes for each provider online. Generally, you should expect to pay 10,000 VND (0.43 USD) for 50 MB to up to 500,000 VND for 30 GB (22 USD).
Internet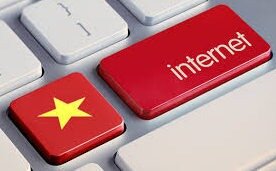 As for internet subscriptions, most flats and flatshares would already have this included. But if the place you're renting doesn't, the price would be around 300,000 VND/ month (approximately $15 US).
Internet speeds in the major cities in Vietnam are around. It is also quite reliable and rarely breaks down unlike in other neighboring Southeast Asian countries.
Entertainment
No matter how conscious you are of your budget you should always have time for different kinds of entertainment and activities. After all, Vietnam is known for its amazing social scene. From night outs to gym memberships, there are a lot of choices for various budgets.
Alcohol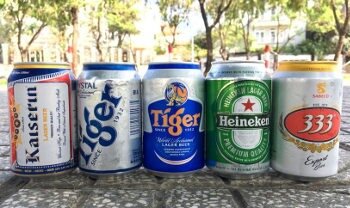 Vietnam is probably one of the countries that I have been to with the cheapest beers. Admittedly, I was not much of a beer drinker before living there, but once I had my first bottle at Bui Vien Street I could not really rationalize getting a more expensive drink. A bottle of beer at the grocery store is around 0.50 USD while you'll pay 2-3 USD in bars and clubs.
If beers are not your thing, most bars have a lot of choices especially those that are in more touristic locations. You can get cocktails from 3 USD and hard liquor from 2 USD per shot. Wine bottles in supermarkets cost 5 USD for local ones and from 10USD for imported ones. Bars and clubs also carry wine for 4 USD per glass.
Fitness/Gym Membership
Ha Noi and Ho Chi Minh Cities are as metropolitan as most western cities so it should not come as a surprise that there are a lot of gyms and fitness clubs which are popping up. You can also do your favorite sports like basketball, football, and golf at key areas in the city. Below is a table which shows the average for each of the activity.
| ACTIVITY | PRICE (in US dollars) |
| --- | --- |
| Gym Membership (per month) | 30$ – 200$ |
| Yoga (per class) | Starting from 6$ |
| Boxing/Muay Thai (Per Day/Class) | 10$ – 22$ |
| Golf | From 6$ |
Activities
There are a lot of malls and other public access around the major areas. This means that you can have a lot of activities in the city. You can watch a movie with 4 USD and up. As for museums, you should expect to not pay more than 20,000 VND for admission.
Income for workers in Vietnam : how much is the salary ?
It would not be normal to talk about the standard of living in a country, without taking into account the salaries that Vietnamese and expats are having. For this reason, we propose the table below, summarizing the income by category :
| Description | Minimum salary |
| --- | --- |
| Employee | From $200 to $750 |
| Executive | From $500 to $1,000 |
| Senior | From $1,000 to $2,000 |
| Manager – Director | Up to $5,000 |
Cost of Living Per City
Like in any country, the prices in Vietnam may differ from city to city. Below are the top cities in Vietnam and the average cost of living you should expect for each.
Ha Noi
The cost of living in Ha Noi is a bit higher than most places in Vietnam. Expats who have lived there have also reported seeing an inflation on prices compared the past few years. This rise in price can be due to the increase of expats as well as the improvement of Vietnam's economy.

But do not be worried, these price hikes are not as bad as you think and you can still live comfortably. On average you should expect to live anywhere from 600 USD to 900 USD per month. This can, of course, get higher depending on your preferences.
Ho Chi Minh
Ho Chi Minh is another expat favorite. It is more modern than Ha Noi and the weather here is on the more tropical side. Cost of living in HCMC is also a bit higher, with expats reporting to live from 700 USD to as much as 1,300 USD per month. However, keep in mind that a big chunk of all expenses go to accommodation so if you keep that low you can live for even lower.
Hoi An
Hoi An is known for its beautiful lights at night and has a more calm and local vibe compared to the two big cities I have mentioned. Since expats and remote workers are just starting to move here, the prices are also not as high. You can get accommodations for as low as 300 USD and the food is also cheap. So if you do not spend so much on miscellaneous activities you can expect to spend as low as 550 USD. However, most expats report spending 1,200 USD per month for two people. You should not expect to spend more than 800 USD per month in Hoi An.
Nha Trang
Nha Trang is another smaller town has been receiving traction from foreigners. As a coastal town, this is perfect for those who would love to live close to the beach.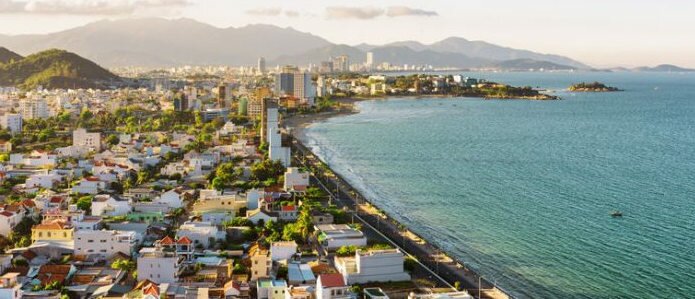 As a top tourist destination, some places can be a bit more expensive but as long as you keep it local you will surely be able to live on the cheap side. On average you should expect to spend from 400 USD per month.
FAQ : Answers of the most asked questions about cost of living and expenses
💥 Cost of living in Vietnam (in 2022) : average in USD
Accommodation, transportation, food, entertainment, internet, bus or plane tickets for travels, health insurance will be your main costs. Plan a minimum budget of $700/month if you are young or do not spend a lot. Your expenses may be up to $1,000/month if you want to be able to travel, enjoy the nightlife a bit more. Of course, if you want to eat in fancy restaurants, live in a luxurious apartment and want to have your daily cocktail on one of the trendy "rooftop" bars of Ho Chi Minh City, then you will have to spend several thousand USD per month.
🇻🇳 How much does it cost – IN DETAIL – to live in Vietnam ?
Here are in detail the expenses to live in Vietnam:
Monthly rent: from $150 for a single room, to $500 for a small apartment up to $1,000 for a well located one and even $3,000 for a luxurious villa.
Transportation:

For everyday life: the best deal is to buy your own scooter/motobike (for about $400) or rent it for $50 per month. Taxis are very cheap (use the Grab application) to reduce daily costs.
Travelling: the mini bus ticket for about ten dollars to go to the nearest beach area, round trip plane ticket for a hundred usd everywhere in Vietnam.

Food: prices vary a lot according to where you will be eating. It will cost for about $1 for a simple dish on a street-food corner, 2$ in a small family restaurant, 5$ to a mid-range air-conditioned restaurant and finally about $20 in a luxury restaurant.
To get an idea of the salary expatriates working in Vietnam, you can expect to receive a monthly salary:

trainee or young employee: $700
skilled employee: $1,200€
senior or young manager: $2,000
high positions with responsibilities: $5,000

Entertainment: the price of local beers and cigarettes is very cheap: less than one dollar in a street bar. Many travellers and backpackers decide to settle donw in Vietnam for several months to work a bit and take advantage of this very low cost of living.
💰 Vietnam : living expenses for one year
More and more foreigners want to live in Vietnam for several months to work, do volunteering, study … Some of them even plan to live there for a year. It is necessary to calculate the living cost in Vietnam and plan from $8,000 to $10,000 : to be able to rent an apartment for several months, handle the the costs of renewing visas, eat decently and be able to travel sometimes.
↕️ Living cost in vietnam : Hanoi or Saigon or countryside
Saigon (Ho Chi Minh City) and Hanoi are the two cities with a high number of expatriates. Although they are megacities of several million inhabitants, the cost of living is affordable as soon as you choose which district to live in, use local products. Of course, other places in Vietnam, mostly in the countryside, are cheaper. Some of them such as Vung Tau, Dalat, Hoi An have a small expat community.
🤔 Is it cheaper to live in Vietnam, Cambodia or Thailand ?
According to the annual study conducted in 2019 by ExpatExplorer (prices still valid in 2022). Here is the ranking order of destinations from the most expensive to the cheapest: 1) Thailand, 2) Vietnam, 3) Cambodia. This ranking is because Thailand and Cambodia get a clear visa-structure to settle down for a long period of time (through the retirement visa). However, these rankings are variable and must be adapted to each expatriate situation because the cost of living depends very clearly on the lifestyle we decide to have and the financial resources we own.
Final Notes – Cost of Living a Cheap Life in Vietnam
The cost of living in Vietnam is certainly cheaper than western countries but costs can easily go up if you do not watch how you spend. In the end, all these numbers mentioned are just guides. It boils down on what kind of lifestyle you live.
Hopefully, this will help you to know whether or not you are spending too much and can also steer newcomers away from scams. If you want to know more about living in Vietnam you can read more of the articles on our site.
Get a copy of our book for expats if you have more questions