Sending money or transferring money from/to Vietnam is a nightmare for many people when you have to deal with it the first time. If you ask for a meeting with your banker, he will ask you a ton of questions. When it comes to sending money from Vietnam to other countries (like US, Australia, Europe …), it's also very complicated to know how it works and the steps to follow.
💡 In order to help my readers, I decided to dig into this subject and digest it (I was in the same situation as you before and I had to send money from and to Vietnam 🇻🇳). So I tried a various of solutions to end with honest and effective comparison of the fees. In this article I reveal to you the results of my tests.
Almost every week Facebook groups are flooded with messages from expatriates who have worked in Vietnam and are returning home looking to send money abroad. In general :
either the money is in their bank account and they wish to send these by international transfer
they have VNDs in cash that they are looking to convert into USD or EUR to be able to use them in their country
As soon as they go to their Vietnamese bank, it asks them many questions, asks them for papers such as the updated employment contract and salary slips proving the origin of the funds. If you have worked for different schools, been paid directly by hand or the money comes from services you have provided as a self-employed person, it may be difficult to prove the origin of the funds.
Legislation on Money Transfers Abroad
The law is very clear on this subject: if you are a Vietnamese resident and a foreigner, you have the right to take money out of the country as soon as it has been legally earned. This means that you have paid your taxes on them. Even if some people will tell you that you are not obliged, once this salary has been received on Vietnamese soil from a job you have provided you will have to honor your tax obligations and pay the tax due. If this is your situation, contact an accountant who specializes in personal tax returns, which involves obtaining a PIT (equivalent to a social security number), calculating the taxes due and the settlement. Once these declarations have been made, you will be in good standing with the Vietnamese tax authorities and may consider returning to your country.

If you are Vietnamese (have a Vietnamese passport), it is always possible to send money abroad according to certain specific rules. Your request must be for study, health care, business travel or tourism on your own behalf or that of a family member. In these specific cases, you will be allowed to exchange VNDs for USD or whatever your native currency is, and send them abroad.
⚠️ As I am not a tax expert, I invite you to contact a lawyer if your situation is more complex and you wish to know the legislation.

If you need to send large amount of money from Vietnam to overseas (US, Australia, Europe, …), I invite you to get in touch with me. You will find the way at the end of this article. Indeed : tax authorities or banks may freeze your funds while asking you for proofs and making you pay taxes; so better to rely on a third party who knows how it works. I will refer to you a wealth-managing and financial company based in Vietnam that deals precisely with these thorny issues 😉.
There are many alternatives for those who want to send money abroad. Among these are solutions such as Paypal, Western Union or through independent brokers. In general, these solutions work quite well, but the fees are exorbitant when you analyze the margin these services take. Of course, any international transfer has its costs, but our goal is not to get plucked and keep only the peanuts.
For example, let's see how much a money transfer from France to Vietnam costs in order to get an idea of the costs involved by using current Fintech services.
Q&A International money transfers and sending money abroad in 2022
💥 Fees: how not to get ripped off ?
Sending money abroad is always a tricky question. If it is your first time, it is fairly easy to get ripped off by the banks because of the huge transfer costs they charge for transferring, converting currency and even charging fees for receiving funds. Fortunately, there are effective solutions to overcome these fees.
🥇 What is the best provider: Wise – WorldRemit – TransferGo – Xoom ?
We have conducted a review and comparison among the list of the best services to handle transfer of money overseas. During this analysis, we compared: Wise (ex Transferwise) – WorldRemit – TransferGo – Xoom. We have revealed the best service that allows you to:
Benefit from the lowest fees on the transfer
Carry out the transfer in the shortest time
Trust a reliable service that enjoys excellent consumer reviews.
We have compared according to these different criteria and we recommend Wise as the most legitimate, efficient and cheapest one. Simulate your international transfer right now and click here to benefit from 0% fees on your first transfer.
🇺🇸 🇪🇺 International transfers from abroad to Vietnam
Sending money from abroad to Vietnam will not be very expensive. You can count about 0.5% fee for the total of the operation. If you use the service we recommend, you will have no exchange rate fees (the service uses the market rate) and usually no fees for sending and receiving. Comparing it to the 3 to 5% banks usually charges, you are about to save hundreds of dollars.
🇻🇳 Send money overseas from Vietnam
If you want to get money out of Vietnam and send it to Europe, the United States, Australia … know that there are certain rules and legislation to follow :
If you are Vietnamese, you must be able to justify the reason for your money transfer (family member abroad who needs health care or a child in a school abroad who needs to receive money for his education for example).
If you are a foreigner, you must be able to justify the origin of the funds and that taxes have been paid already (salary, money coming from a property investment, …)
If you plan to send a large amount overseas, I invite you to contact an asset management company (you can consult our recommended one) in order to get helped on the process.
Transfer from Overseas to Vietnam – The cheapest solution
When making an international transfer of this type, there are several parameters to consider:

The initial costs that the first bank will take to make the transaction
Currency conversion fees (in the example it was between the euro and the US dollar, my account in Vietnam being in USD)
The reception fees that the second bank will have
The impact of the currency movements on the Forex market between the date of wire issue and reception if there is a currency conversion
When you have carried out such an operation, you must keep in mind that there could be more fees. If a bank tells you that it has no shipping or receiving fees, it is because they may have huge fees when converting currencies.
In my situation, sending from France to Vietnam cost me: 126.40 € to send 30,000 € (even no cost charged by the Vietnamese bank at the reception). That is 0.5% on the entire transaction.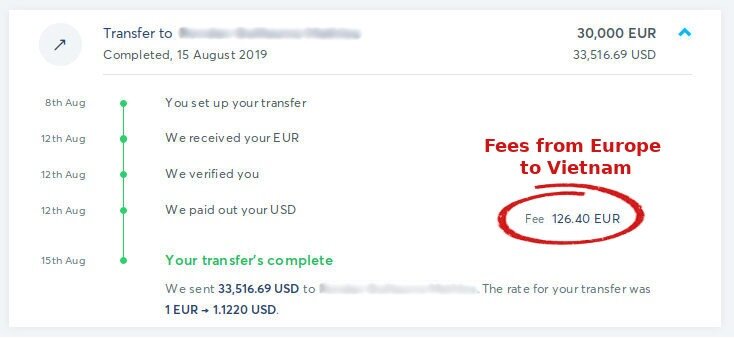 This operation was carried out using Wise: a solution to significantly reduce costs thanks to their global partnership between different banks and access to the exchange rate of the financial markets.
If you plan to make such an international transfer soon, register and benefit from the first free transfer (up to $500). Wise is of then the best provider with the cheapest currency conversion fees. They won't charge you any other money-transfer fees compared to other traditional banks.
⇒ 0% fee on your first Wise transfer: click here
⚠️ The problem today is that, such tools that revolutionize international transfers do not (yet) allow money to be sent from Vietnam to other countries. This is due to the fact that Vietnamese currency is protected as are currencies such as the Chinese Yuan or the Thai Baht.
Now, you have an idea of the fees involved in a international money transfer from overseas to Vietnam. We are going to study how to send money from Vietnam to overseau as well as the alternatives usually available for expats and vietnamese living in Vietnam.
The Wrong Solutions: Western Union, Paypal and Independent Broker
As presented earlier, sending money abroad presents several sources of costs that are generally charged by banks: issuance costs, exchange fees and reception fees. Services like Western Union or Paypal will tell you that they have no fees, but these are actually marketing arguments that hide the fact that they will ask you for a higher fee for currency conversion.
Paypal: Is It That Easy to Send Money Abroad?
The method seems simple but you will soon discover that the costs are high. To do this, you must:
Have a Paypal Vietnam account linked to your bank account in Vietnam. This account will generally be denominated in VND (Vietnam Dong)
Have a Paypal account abroad, in France, Belgium, Switzerland or any other country: this account will be denominated in the country's currency: Euros, US Dollars, etc …
The process is quite simple: you fund Paypal from your account in Vietnam, you send the money to the account abroad using "Send money to a friend", then you will receive the money very quickly within 24 to 48 hours.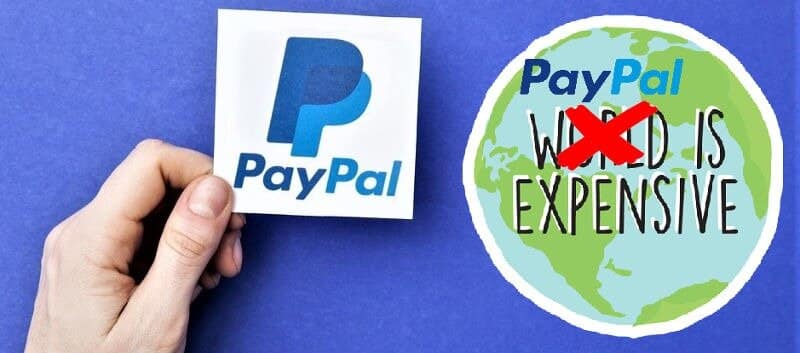 The fees are not listed directly on the Paypal website: they depend on the currency into which you will convert your Dong but according to the opinions of expatriates who have tried this method to transfer money abroad, you should expect between 6-7% of fees. It's simple but quite exorbitant.
Using Western Union: The Anti-Stress Solution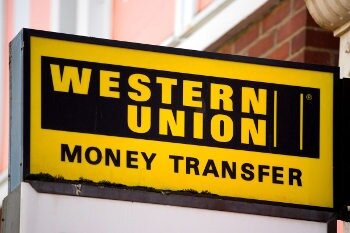 This global company has offices in the majority of banking institutions in Vietnam. Even if you are in a remote corner of Vietnam, you can send and receive money. This can be very convenient if you have an emergency to deal with. From the moment the branches are opened in the sending and receiving country, the transfer is very fast and will only take a few minutes.
The problem with this solution is still the cost. According to the opinions of expatriates living in Vietnam, we are talking about 6-7% of costs again.
Independent Brokers and Black Market
Vietnam has many jewelry stores that offer to buy / sell different currencies. You can often exchange Vietnam dollars for US dollars, euros or rarer currencies depending on the choice they have in stock. This solution is very competitive when you have quite large amounts of tickets such as $100 bills and you want to get Vietnam Dong. On the other hand, if you go to a foreign exchange agency or a jewelry store and you will immediately have expenses that are close to 10%.
Again, this solution can save you time, but you will pay the price. Also remember that it is prohibited to travel with more than $5,000 in cash or equivalent in currency in most countries. Thus, if you exchange more than a certain amount of VND in Vietnam for USD, you will have to declare the origin of the funds when you clear customs. In addition to the supporting documents you may have to show, being in possession of too much money on hands always brings stress and anxiety that you will have to deal with.
Alternative #1: Choose the Right Bank for Expats
Some international banks such as HSBC offer bridges between countries. If you are a "Premium Customer" in a worldwide bank, you may have options to choose a set-up that will allow you to send money overseas easily. For instance, in HSBC you can open a "Premier Bank Account" in your home country and choose a similar option in Vietnam. You can usually claim your "Premier" benefits and inform them you will send money overseas. Let them know your projects (doing business overseas, being an investor, etc.) and you can get special treatment for transferring money from Vietnam abroad.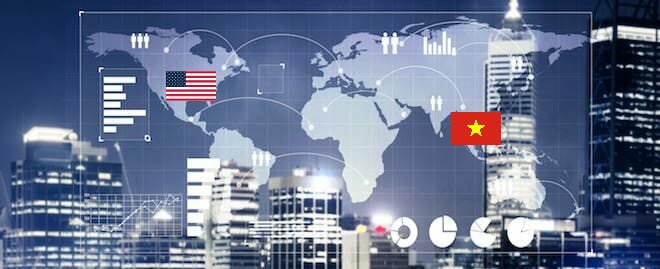 This is the ideal solution if you are an expatriate, and you have thought about taking the necessary steps early enough to open an account in one of these banking institutions. If you have just arrived in Vietnam, get in touch with your banking institution in your home country to find out what options are available and what choices they offer. If you have to travel a lot for personal or professional reasons, joining a World Bank has its advantages. Make an appointment with your banker to tell him about your expatriation project and how they can help you.
Download the book that answers 85% of expats' questions and reveals their secrets
Transfer from Vietnam to Foreign Countries: 100% Legal / 1-3% Fees
The survey was conducted to study all the alternatives offered to expatriates who wish to send money abroad in a 100% legal way while minimizing the costs. Between brokers, exchange agencies, the use of certain banks: the choice is vast, and many are lost at the idea of sending money abroad: will it work? Is it legal? How long will it take to receive my funds? All this needs to be clarified because the approach deserves to be highlighted. Efficient use of the tools available today that make it possible to remain within a legal framework while having reasonable transfer times.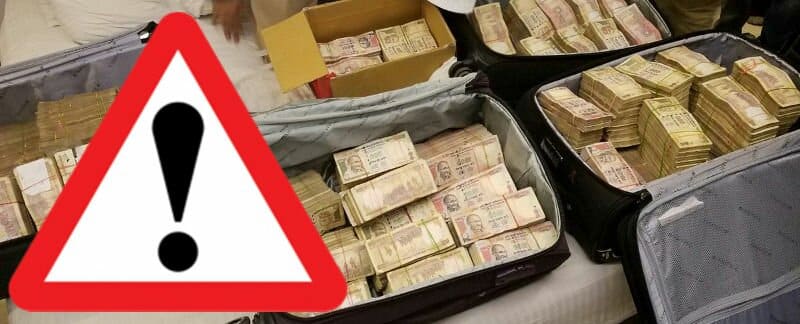 This method will use exchangers and electronic currencies. The goal is to use reliable, legal and robust tools to transfer funds abroad, freeing yourself from banking institutions that only seek to take an indecent margin. An exchanger is a regulated market like the world currency market (FOREX) but for electronic currencies (Bitcoin, Ethereum,… etc.) This market allows a user to exchange fiduciary currencies for electronic currencies.
Crypto Currencies: Legal aspect of Bitcoin in Vietnam
Bitcoin: the popular currency is regulated in most countries such as the United States, Europe and Vietnam. A legal framework has been defined to prohibit payment by Bitcoin. Nevertheless, crypto-currencies are still massively used especially for trading purposes in Vietnam. Nevertheless, crypto-currencies are still massively used especially for trading purposes in Vietnam.

This means that it is not yet possible to pay your "Cà phê sữa đá" by Bitcoin. However, you can legally buy, sell and exchange these electronic currencies with each other.
How to send VNDs from Vietnam, receive US$, EUR… and Other Currency Abroad
The method is divided into several steps:

You exchange your VNDs for BTCs (Bitcoin)
You transfer your BTCs abroad.
You convert BTCs into EUR, USD by transferring them to your bank account abroad
Fees and Costs of Transferring Abroad
There are costs inherent to these operations, which can be relatively high if your transfer is for a small amount but for a significant amount, this solution will be more interesting than the alternatives listed above.
Below is an expanded view of the exact costs that will be present at each step. An explanatory leaflet below details each step. By following the instructions on buying / selling and transferring your coins, you can considerably reduce the costs for the total operation. You can adjust the amount (in US$) you want to send, and the calculations will be updated. Two scenarios are simulated: sending to an account in the United States in US$ and one in Europe (in €) for a European resident.
Update those parameters to fit your needs
Country
Amount
Equivalent :
Convert to :
Finally received :
Total costs :
Explanation of the process – How Does It Work?
Sending is sending at the current market price. exchange fees between Vietnam Dong and BTC due to a fairly high spread on VBTC (1) which gives you . The international transfer has a fixed fee of 0.0001 BTC so you will get on Coinbase exchange. You can convert to fiat currency with a fees (2) so you will get . To cash out to your bank account (3), you will have to pay a fee of . Finally you will receive . The all process would have cost . These costs should be compared to the other alternative methods discussed earlier in the article (6 to 10% for Paypal, Western Union or independent Broker in Vietnam).
Additional information and details
(1): Because VBTC exchange doesn't get a lot of volume, you may have a higher average price for each BTC bought compared to the market price displayed on the exchange.
(2): Given the liquidity on Coinbase between BTC/USD and BTC/EUR, you will obtain a spread almost zero and therefore a negligible cost on the conversion. The 0.25% fees are the the only cost to be able to "buy at market price".
(3) Withdrawal to your bank account in Europe €0.15 for a SEPA transfer, 1.49% for a transfer in $US to the USA
This simulation uses real time data from VBTC, Coinbase and global exchange rates between currencies: VND/EUR, VND/USD, EUR/USD. It is highly possible that minimal price fluctuations, volatility or other price movements could change the results. You should therefore use this tool for information purposes. As the BTC price is highly volatile within a single day, this calculation model is theoretical but has limits inherent in the very stages of the operations. The liquidity of the exchangers is also important in such a scenario: the more you want to make a large transaction, the higher the initial purchase price of Bitcoin will be, which will make the transaction less profitable. There is a balance to find between the different cases and market situations. This alternative is therefore helpful for digital currency users who are aware of the issues and limits.
Wrap up, do you want to send money abroad?
If you are familiar with these concepts make your due diligence or have some relatives in Vietnam, you can use the ideas illustrated in this guide to do this type of operation by yourself. Be aware, some of the ideas introduced may involve risks. If you want to be assisted in this matter:
Use crypto-currencies that are not as volatile as BTC,
Benefit from better exchange rate and liquidity in the Vietnamese market,
Minimize the risks and receive your capital within minutes abroad,
Are you facing a problem and you did not found a solution yet? Do you want to benefit from our experience in transferring funds abroad? Contact us, describe your situation and you will receive an answer from us shortly in your mailbox.