The education of children is always a concern wherever you are in the world. When you decide to move abroad, you want to keep the best level, although school systems may vary from one country to another. Vietnam is the main destination for expatriates in Asia, but to succeed in their expatriation, the whole family must find their place. Children will have to adapt to so many things, just culture shock alone will upset them, while next door there are still so many things to which they will have to adapt. The change of scenery is not always well experienced by children, who most of the time are looking for what most closely resembles their school environment in their country of origin, which is not always obvious. If you have settled in Vietnam and are confronted with the problem of finding a school for your children, hang on and we will tell you everything about it.
Moving to a new country is always synonymous with a radical change in lifestyle, which can be confusing. Choosing schools for children is not the easiest task in this process. The first criterion often remains the language of instruction. Yes it is obvious that in the early years children do not speak Vietnamese fluently (they will have time to learn), and that classes in the local language would only frustrate them to the highest degree. The choice is therefore quickly made, a multilingual school or a French school outright if your country of origin, i. e. you and your children, are French-speaking. There, everything is not yet completely clear-cut, because there are multilingual schools where the curriculum is the one established by the Vietnamese Ministry of Education, therefore the same as in all other schools in the country; and then there are international schools where children will follow courses according to the curriculum of another country, France, the United States for example. Similarly, depending on the school, the teaching method may be either that defined by the Vietnamese Ministry of Education, teaching in another language; or the curriculum of another country.
Top 10+ of the best international schools in Vietnam
School
Campus
Languages
Enrollment Grade
Fee
European International School
HCMC (D2)
English is the instruction language. Additional languages: German, French, Spanish, Korean, Chinese and Vietnamese
Early years, Primary School, Middle School, High School.
Early Years: VND 225 – 375 mil; Primary: VND 437 – 476 mil; Middle & High School: VND 498 – 599 mil
British International School
HCMC (D2)
HANOI (Long Bien)
English, Vietnamese, French, Spanish, Mandarin.
Foundation, Primary School, Secondary School
Foundation: VND 200mil – VND 380mil. Primary: VND 500mil – VND 550mil. Secondary: VND 640mil – VND 730mil.
The International School of Ho Chi Minh City
HCMC (D2)
English, Korean, Vietnamese, French, Spanish, Mandarin.
Primary School (including Early Explorere), Secondary School.
Early Explorer: VND 280mil – VND 370mil. Primary: VND 540mil. Secondary: VND 630mil – 750mil.
Saigon South International School
HCMC (D7)
English as the main instruction language
Elementary School, Middle School, High School.
Elementary School: VND 390mil. Middle School: VND 540mil – 580mil. High School: VND 620mil – 680mil.
Australian International School
HCMC (D2)
English, Vietnamese.
Kindergarten, Primary School, Lower Secondary, Senior.
Kingdergarten: VND 160mil – 250mil. Primary School: VND 420mil – 480mil. Lower Secondary: VND 530mil – 590mil. Senior: VND 646mil.
American International School (AISVN)
HCMC (Nha Be)
English is the instruction language.
Additional languages: Chinese & Vietnamese
Early years, Elementary School, Middle School, High School
Early years: VND 385,8mil – VND 453,8mil Elementary School: VND 490,1mil
Middle School: VND 539,2mil
High School: VDN 566,1mil – VND 690,8mil
Canadian International School
HCMC (D7)
English
Elementary School, Secondary School.
Elementary School: VND 420mil – 480mil. Secondary School: VND 540mil – 620mil.
Hanoi International School
HANOI (Ba Dinh)
English
Primary School, Middle School, Diploma Program
Primary School: VND 400mil – 500mil. Middle School: VND 550mil. Diploma Program: VND 630mil.
Wellspring
HCMC (Binh Thanh)
HANOI (Long Bien)
Vietnamese, English
Primary School, Secondary School, High School.
Primary School: VND 180mil. Secondary School: VND 230mil. High School: VND 300mil.
Saint Ange School
189 Nguyen Van Huong, Thao Dien, District 2.
French
Nursery, Kindergarten, Elementary School
Nursery: $500/month. Kindergarten/Elementary School: $6300 – $7000
Lycée Francais International Marguerite Duras
HCMC (D9)
French, English, Vietnamese
Primary School, Secondary School.
Kindergarten: 4382€, Elementary: 4304€, Middle School: 4757€, High School: 5165€
Q&A International Schools in Vietnam: Answers of your main questions
🎓 What should you expect in term of quality ?
Is quality of school education in foreign languages lower than the one in Vietnamese? Not at all. In contrast, many Vietnamese families prefer sending their children to international schools in order to boost their language skills and help them get a better education.
🏫 Will my child have an opportunity to get an IB in Vietnam?
Yes. A number of English-speaking schools in Vietnam offer International Baccalaureate (IB) programs that open multiple opportunities for further education, both in Vietnam and abroad.
🌎 Are there native language teachers in Vietnamese international schools?
There are, but not many. Most of the teachers are locals from Vietnam, nevertheless, their level of teaching is not any lower that the one of foreigners coming to work in Vietnamese schools.
👶 Will I find a kindergarten with teachers speaking my child's native language?
Yes. Although there are not many kindergartens with teachers speaking other languages than Vietnamese, try reside closer to bigger cities, as opportunities to find the right place for your children is higher there.
📊 Is there any ranking of Vietnamese schools?
There is no official ranking of schools in Vietnam. We would recommend visiting a couple of schools listed in our article in order to find the right place for your children to get a high-quality education in their native language.
French schools: teaching in French
There are now several French-speaking schools in Vietnam, such as the Lycée Français international Marguerite Duras, which is accredited by the French Ministry of National Education; the "Boule & Billes" school in Ho Chi Minh City (this school is accredited for kindergartens), Antonia French school still in the same city, the EFI center or the Azur school in Nha Trang, to name but a few examples.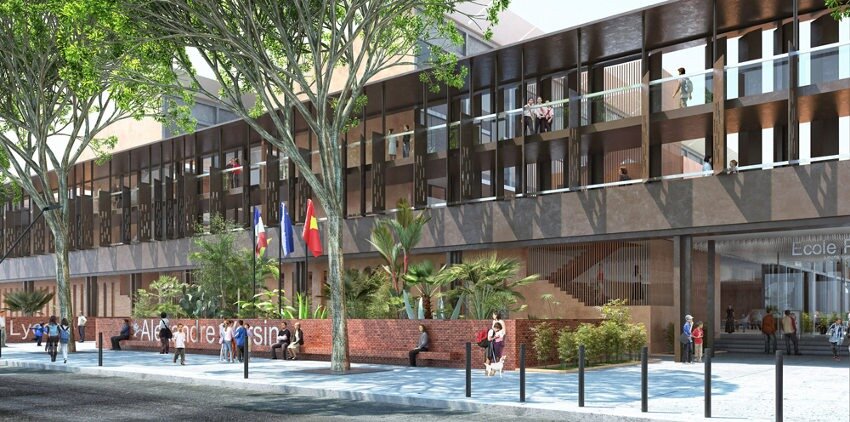 English-speaking international schools
If you are more English-speaking, what you are looking for may be closer to the International School Saigon Pearl which has been accredited by the Council of International School and the New England Association of Schools and Colleges. Students at this school follow the programs established by the American educational system.
The European International School Vietnam in Ho Chi Minh also offers courses in English, following the curriculum according to the IB (International Baccalaureate) education system;
It is hard not to mention the United Nations International School in Hanoi when talking about international schools in Vietnam. The school has obtained accreditation from several institutions (AAIE, ECIS, IBO, WASC, NAIS etc.), the school curriculum is the same as that of the United States, and interesting extracurricular programs such as art, sports and travel.
British International School
The British International School, also in Ho Chi Minh City, is a school where teaching is based on the standard British academic curriculum. Children will be able to learn Vietnamese as an extracurricular subject. Due to its excellent reputation, this establishment is very selective.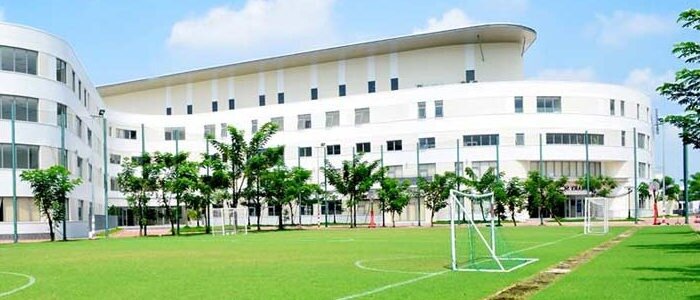 In addition, it is part of the NAE Family of Schools (Nord Anglia Education), which brings together prestigious international schools around the world, and students will have the opportunity to be propelled into major institutions such as Juilliard, Unicef or MIT, with easier access to the restricted circle of institutions that play a major role in development. In addition to the pre-established academic program, this school offers various activities that promote the development of children, such as music, theatre, dance and different styles of art;
Saigon South International School
More on the Saigon side, the Saigon South International School
Known as one of the best international schools in Vietnam, the language of instruction at this school is English and the academic program is based on the American system (North America education System). Thus the students prepare for the diploma called American High School Diploma. However, it is also possible for students who wish to do so to take a course based on the IB system. Saigon South International School is a non-profit school (the only one in the country), where more than 30 countries in the world are represented among the school's approximately 850 students. This school still has a very good success rate for its students on official exams, the pupil/teacher ratio is 10 students to one teacher. This close monitoring has enabled them to provide and maintain a very good level of education.
ABC International School
ABC International School, an English-speaking school, and with the English curriculum. Children are taught international success, with a holistic approach to education that takes place both inside and outside the classroom.
They therefore regularly organise outings, excursions and trips abroad for children over the age of 4.
Canadian International School
The Canadian International School, where students are at the academic pace of the Toronto District School Board, and upon completion of their studies they graduate from the Ontario Secondary School diploma. The objective of this educational program is to prepare students for graduate studies in a context of academic excellence. The courses are in English, you can learn French and Vietnamese.
Renaissance International School Saigon: this school is part of the Round Square group, which has more than 50 schools on 5 continents. You could meet more than 23 nationalities, and many of its students have at the end of their studies in this school have integrated the best Universities or colleges all over the world.
American International School
American International School Vietnam (AISVN): as its name suggests, it is an English-speaking school, under the IB system, Advanced Placement, where the America High School Diploma is prepared. Students graduating from this school receive scholarships to continue their studies at prestigious universities around the world, particularly in the United States.
They have two sites, in Ho Chi Minh and Da Nang, the two schools are managed by the same pedagogical and administrative staff. The team at this school is dedicated to providing quality education to children and supporting their development, armed with the right tools to succeed;
Australian International School
There is also the Australian International School Vietnam, where the teaching staff is based on the IB programme. There are many teachers of Australian origin and 35 countries are represented among the students of this school. These children prepare for their entry into the University and the school provides them with all the tools they need to excel to the point of having access to universities such as Stanford University, or Melbourne University, representatives of these universities regularly visit the school in order to target future elites.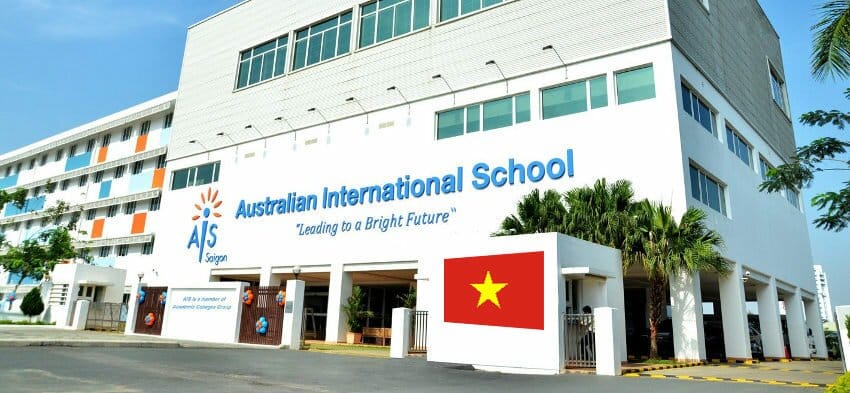 Similarly, students visit these universities during outings organized by the school. A way for these children to let a dream come true while immersing themselves in the life of a successful student, in order to project themselves and make the efforts to achieve it in their turn.
European International School (EIS)
International School Ho Chi Minh City (EIS) islocated in the heart of Thao Dien (District 2) one of the most favourite expat district. This school is dedicated for children from 2to 18 years old.
EIS describe themselves as a home-from-homepeaceful village with diverse melting pot children for 45 different nationalities. If you want your children to be surrounded in a mixculture atmosphere to grow, it may be a good school to consider.

About EIS teachers, they are skilled and usually have over 10 years of experience combining theoretical and practical courses and activities to provide a balanced education. In this school, it will follow International Baccalaureate (IB) programs and diploma. European International School Ho Chi Minh City (EIS) is a medium-sized school compare toothers, so the fees are also in the middle-range comparing to others.
Budget and fees to be expected for schooling in Vietnam
Enrolling children in international schools in Vietnam, especially English-language schools, requires a significant budget. Between administrative fees, registration fees, annual or monthly tuition fees, depending on the age of the child and the school, the amounts vary. It costs about $20,000 a year and some institutions charge extra fees for extracurricular activities or outings and excursions;
You could always choose a school under the Vietnamese academic regime, some have multilingual teachers. A brief word on the education system in Vietnam.
Kindergarten for the very young kids in Vietnam
Very young children begin to enter the school system very early, in nurseries, they can be welcomed from 3 months to 36 months. Then they go to kindergarten between the ages of 3 and 6. Most of the facilities are private, and some are used to caring for the children of expatriates. If you want to entrust your little piece of cabbage, for example, to people who speak your language, it will be possible, a little difficult to find an ordinary kindergarten, but possible.
The rate will be higher for these kindergarten where the staff speak foreign languages, they are rare, in large cities. In rural areas, the very concept of the kindergarten, i.e. sending children very early to an educational facility, is still poorly accepted, so the kindergarten themselves are rare.
Primary school for foreigners living in Vietnam
From the age of 6, children go to primary school. Primary school enrolment is compulsory in Vietnam, and until recently the right to offer primary school enrolment was reserved for public schools, free of charge. In each municipality, at least one of these public primary schools can be found. However, recently, the Vietnamese Ministry of Education has granted accreditation to other institutions to accommodate children (in kindergarten and elementary school sometimes in the same school). After five years in primary school, children will be able to start basic secondary education for three years;
International schools for foreigners in Vietnam: which one to choose ?
You are well informed about international schools in Vietnam, they are mentioned without any particular ranking, but to give you key elements to make your choice in the light of this information. Each child is unique and you are in the best position to know your children's needs and what they like, but you also know how you would like them to be educated. Academic programs are based on cultural values among others, so it would be very normal to choose one that looks like you and reflects your own values. Education at school is always complementary to the education you provide at home. The future of children depends on it, it is a long-term investment to provide them with the best education and school environment they can have;
For a successful start to the Vietnam school year, do not hesitate to find out more about the establishments that seem to suit you, and even to contact them. Talk about it around you to get feedback from your compatriots and local friends, as well as consult opinions on social networks and the Internet in general, without letting yourself be influenced on what you are going to read, but it can sometimes be a source of information. Then, organize visits with your children to schools to get their valuable advice, you will immediately see in their eyes if they project themselves into a place or not. In any case, the decision should be the result of your consultations together if you really want your children to be fulfilled at school;
This information is of course given as an indication, as you will be able to make your own ideas about each school during visits and conversations with your children. Our goal is to give you tools for reflection and encouragement, by making you discover that it is possible to offer a quality education to your children even on the other side of the world, and that many other parents have already gone through this difficult period of choosing a school for their children. All expatriates in Vietnam who have taken their children on their expatriation adventure have at some point been confronted with this problem… The majority have been able to find the right place for themselves and their children, so why not you?