Vietnam is fast transforming into one of the most sought-after countries for doing business. Many foreign investors continue to shift to Vietnam, thanks to several business opportunities you can invest in and reap big. Again, it guarantees high returns if you take the time to analyze the market then place your money in a suitable investment for the moment.
As a foreign investor, your success or failure may depend on the business hub or center you choose.
Vietnam is on the Southeast side of Asia, specifically on the Indochina Peninsula's East side. If you are going to do business in Vietnam, you have a fair number of business centers to choose from. It's important to know what each business center has to offer you in terms of business opportunities and the ease of doing business.
This guide will give you some key takeaways to choose where to locate your company or settle down to do business to be close to events, business hubs and other meetup dedicated to investment and business.
Interview: working from coworking spaces or offices in Vietnam ?
One of the main questions when you expatriate to a new country is: how to meet like-minded people to help each other, work together and eventually become business partners. Vietnam is the country of coffee shops with a lot of places where you can meet up with locals and expatriates. In this interview, we discuss with two entrepreneurs who share their opinions on different ways to combine work, social life and events as an expatriate :
For those who want to find places to meet potential business partners, freelancers or other entrepreneurs to share with, it may not be that easy. Coworking spaces, shared offices and business centers usually offer such an atmosphere where you can have networking, business meetings to find work partners or freelancers to collaborate with.
Main cities and towns where to do business
Below are some of the best business centers you should consider in Vietnam:
Hanoi
Hanoi is the second-largest city in Vietnam, with a population of over 9 million. It is along the Red River, on the right bank.
Hanoi city has a rich history, having been in existence for more than 1000 years. Fortunately, modernization or industrialization has not adversely altered its ancient architecture and rich culture.

Yet, it is highly developed and is a popular destination for local and international tourists. It also doubles up as the country's political center, where most government and legislative bodies are strategically located.
Its geographical position also favors it; it is connected to neighboring countries, making it a gateway to international markets. Most of the neighboring capitals are 3-hour flights away, so entrepreneurs find it a convenient location to do business in.
All these, plus its high population, make it one of the best strategic sites for business in Vietnam.
The economy of Hanoi relies heavily on finance, tourism, and banking. The best business centers within Hanoi city are Hoan Kiem and Trung Hoa Nhan Chinh and their surrounding areas.
Private businesses continue to expand fast, and there are now more than 48,000 active businesses operating within the Enterprise Law framework. There is still enough room for more ventures.
Da Nang
Da Nang is strategically located, being a port city along the South Central Coast and still on the North-South Railway route. It is right in the center of Vietnam. Da Nang has a first-class airport for convenient international trade.
Hence, it serves as a vital transportation hub in Central Vietnam. It is also a popular educational center, notably the Open Source Software education. Real estate development is another lucrative line of business here, especially along the coastal strip. Entrepreneurs interested in airport logistics can as well bet on Da Nang.

The business center attracts millions of tourists per year, thanks to its beautiful beaches, festivities, bridges, quiet life, and delicious seafood. Tourism is a great business asset as long as an investor goes for an appropriate line of business.
Da Nang is developing fast, and it partly has to with its closeness to India, China, Cambodia, Hanoi, Ho Chi Minh, Laos, and other economic tigers in the region.
Ho Chi Minh City (HCMC)
At one time, Ho Chi Minh City was better known as Saigon. Anyway, it is the largest and most developed city in Vietnam. It is the country's economic heartbeat, housing some of the blue-chip corporate headquarters.
The city is accessible, thanks to the railway connection and its proximity to a seaport.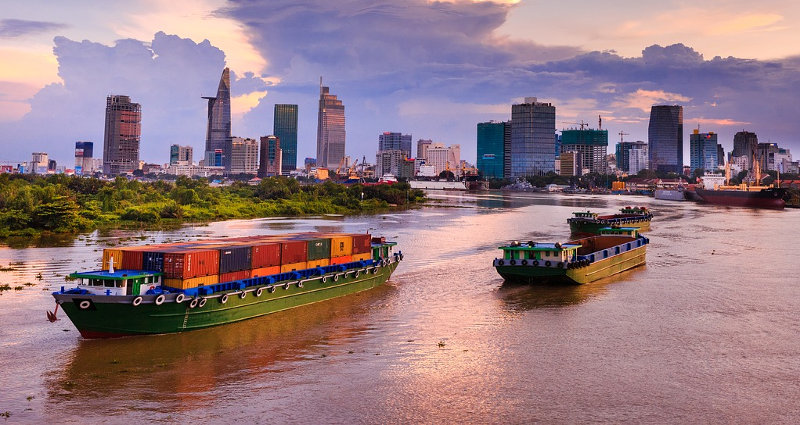 This metropolitan city is located in the country's south and is home to approximately 10 million people, a good number of who are expatriates. This high population guarantees you a ready workforce.
Some of the economic activities carried out in HCMC include mining, garments-making, oiling, construction, tourism, footwear, finance, agro-products, and electronics.
Demand for office space in HCMC grows faster than anywhere else in Vietnam, m.
Bac Ninh
Bac Ninh is the newest industrial zone in Vietnam attracting international companies. Initially, it used to be an agricultural area.
Like Hanoi, it is also along the Red River. It's only 30 KM to the east of Hanoi city.
Bac Ninh may be the smallest province in Vietnam but also happens to have the highest population density. Among its numerous expatriates include especially the Japanese, Koreans, and Chinese whose factories dot this business hub.
Some of the world-famous brands, such as Samsung and Canon, have their factories.
Hai Phong
Hai Phong has a population of more than 2 million people and is the third-largest city. As a multi-seaport business center, it especially suits entrepreneurs after the maritime industry.
It has an international airport for easy transport in and out. The overland road and railway network are also well connected so that you can move around quickly and easily. The infrastructure is still being improved, so the future of doing business here can only be bright.
Binh Duong
Binh Duong is in the South of Vietnam and recently succeeded in transforming itself into one of the ideal business centers for new investors looking for a welcoming investing zone to lay their business foundations.
Its proximity to other business hubs such as Binh Duong and HCMC makes it the best place to turn to for business expansion.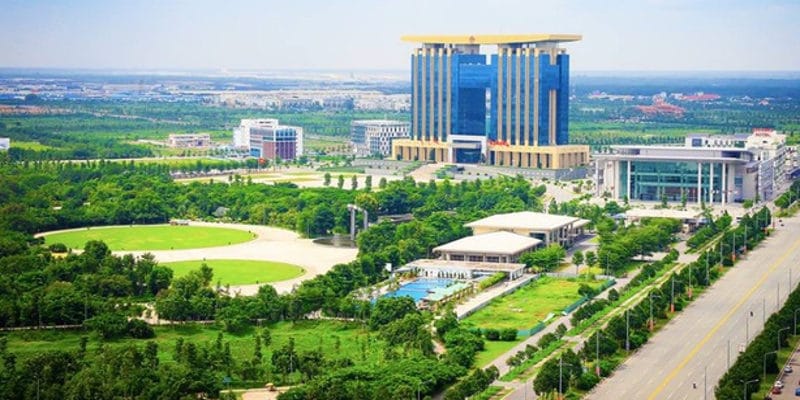 It has especially attracted foreign investors with eyes on hi-tech industries that require less labor and are friendlier to the environment.
Phu Quoc
Also known as Paradise Pearl Island, Phu Quoc is the largest island in Vietnam. It has been projected to be an international center for tourism by the government.
As a foreign investor, business opportunities open for you in Phu Quoc include real estate ventures, airport and seaport logistics, among others.
What Factors Should You Consider When Choosing a Business Center in Vietnam?
There are several business centers to choose from, as we have seen, so your next headache could be how to select the right one for your particular needs.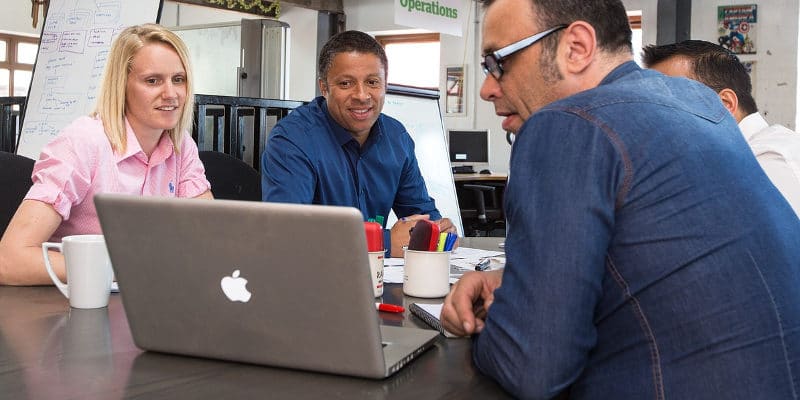 Therefore, the following tips should guide:
Ease of Access – It should be a location you can easily access depending on your most convenient means of transport. How is the vehicular (or even human) traffic during rush hours or regular hours? You do not want to spend more time traveling to or from the business center than doing actual business.
Labor Availability – Vietnam generally has a cheap, skillful, and immense labor force made up mainly of its young population.
A city with a high population points to labor availability once you set up your business in its business center. If you are to start a business that requires a high workforce, choose a business center where you are likely to get that human resources.
Demand for Your Goods and Services – If you are to invest in the seafood business, you should prioritize business centers along the coast because that's where most seafood lovers would prefer to get it.
Cost of Production – Some of these business centers are more expensive to operate a business in than others. Due to factors such as average monthly wages, means of transport, rental costs, etc., the cost of production has to differ.
Therefore, if you are starting with a tight budget, you should consider the business centers with low production costs.
The level of professionalism your line of business requires would also determine the cost of production. If you invest in banking, mineral, metal, or pharmacy, you need professional staffing, which comes at a higher price.
The most expensive business centers to invest in are Hanoi and Ho Chi Minh City.
Space for Expansion – If you have plans to expand your business, the more your products and services would be in high demand, you should choose a business center with ample space for expansion. Some of these business centers are already running out of room and may not favor a company with lofty expansion goals.
Social Amenities – There are the traditional social amenities, then there are the new ones technology has made necessities. High-speed internet is one such necessity you cannot afford to miss out on.
Competition – How competitive is your line of business in the available business centers? Take your business to a location where you are likely to get more customers.
Before you move ahead with your plan to come up with a business in Vietnam, take the time to understand the business environment and the accompanying rules and regulations. The procedure is quite complicated for foreign investors, even after you have found a way around the language barrier.
The best advice you can ever get from an investment expert is that you should continually consult a professional expert in the process of forming a business in Vietnam.
As a foreign investor, when you plan to expand your business beyond one business center, you can open other branch offices in other locations, as long as your parent company has existed for at least five years since its registration.
Again, it is best and easier to set up a Limited Liability Company if you wish to register a company in Vietnam.
Q&A Business Centers in Vietnam : answers of the most-asked questions in 2021
🧐 Are foreigners allowed to open a business in Vietnam?
The answer is yes. Since Vietnam is emerging really quickly, foreigners are welcomed to come into the country and establish their own businesses to boost up the economy. Therefore, it's not so challenging after all to open a business in Vietnam.
🏢 Is there any co-working space in Vietnam?
There's a lot of co-working space in Vietnam. As I live in Saigon, the one I recommend is The Hive, Circo or Dreamplex which are present everywhere. Some have a free one-day trial, so don't hold back and ask them to test before you sign up. There are options that you can choose to pay daily, weekly, or monthly with an extremely affordable price.
🙆‍♀️ Are there a lot of people speaking English in Vietnam?
Since Vietnam is growing pretty quickly, there are a lot of young Vietnamese fluent in English communication. Therefore, you don't have to worry about not being able to find a Vietnamese to help you out with the business. Also, the foreign entrepreneur community is huge. You can always find other foreigners who share the same interest in running a business in Vietnam to connect and collaborate.
🌏 Where should you set up your company in Vietnam ?
The 3 biggest cities in Vietnam are Hanoi, Danang, and Saigon. If you look forward to expanding your business, these are the 3 best to look into.
Hanoi is known as the political center of Vietnam. Since Hanoi is located near other neighboring countries, it has multiple trading routes for domestic and international trades. Hanoi is considered as one of the biggest hubs for e-business in Vietnam.
Saigon is known as the biggest economic hub of Vietnam. It's chosen by many international companies because of:
The sustainable workforce
The center for many headquarters
The access to railway and seaport
Being just a bit ahead of Hanoi, Saigon is right now the number one spot for e-businesses.
Danang has attracted a lot of foreign investors over the years. It has a solid profile when being invested 162$ millions in foreign capitals during the first 8 months of 2021. Even though being just a bit behind Hanoi and Saigon, Danang is constantly approaching urban development. Danang is also known as "the most livable city" in Vietnam.
👉 Is it a good idea to choose a business center for your office ?
It's a big yes. Since a business center has so much that can drive the success of your business, you cannot miss it. When setting up your office at a business center, you will be able to access many networking events which will help you find potential business partners to expand your company. Moreover, you can easily approach a great talent pool. In a business center, there's a young generation that is well-educated, fluent in English, and professional. If you're looking for someone to help you with your business, a business center is the place to be.
Top 5 co-working spaces found in Vietnam
When you work with other people who share the same mindset, there are endless possibilities, from increasing productivity to network and optimal performance. These are some of the things that one can acquire while in a co-working space. The trend of co-working has recently taken the workings sector by storm. It has become the new norm considering all the immense benefits that come with it. It is not a surprise that every day, we have co-working spaces coming up. However, at this point, we would want to emphasize Vietnam's best five co-working areas.
CirCo working space
CirCo co-working space provides one with the convenience of an accessible location. You are bound to find their venues across District 1, 3, 4. The area at Dien Bien Phu and Nguyen Trai location is the quickest access to local eateries, neighboring offices, and local bars. With Dien Bien Phu being 4 minutes away from the city center, this is the first choice for most people. There is always a selection of foods and drinks available throughout the day and a very welcoming environment whereby you can flourish at your work.
It boasts of modern design, set across eight floors comprising of very stylish and modern designs. The offices have very vibrant colors to uplift your mood, flexible, moveable desks, event spaces, a dedicated desk, and a rooftop. They also offer a combination of facilities, mainly banks, coffee shops, and a food court. What's more, are you in need of a private Phone call? Well, CirCo has incredible soundproof booths that you can use. CirCo Dien Bien Phu Is a home for aspiring startups, creative endeavors, SMEs, businesses. It is indeed a Working environment where your Business does not only thrive but you as well.
Insider's Highlight: Has a spacious capacity to hold 120 people, a yoga, and a Fitness Center at the Hoang Dieu location.
Address: 222 Dien Bien Phu, District 3, Ho Chi Minh City
Open Mon-Fri:8am -6:30pm
Price range

Daily VND 150,000
Weekly VDN 500,000
Dedicated Desk VDN 3,500,000 per month
The Hive
Did you know that the Hive in the Asia Pacific is the largest co-working space? It is. It boasts of 3 perfect locations in the Saigon.
The Hive district
It has a view of the Saigon from the rooftop, has a very vibrant café, and such light rolled floor. It offers a very serene and lively location. Has private Offices which can hold 35Pax at any given time, dedicated desk, and multiple meeting rooms. The Hive offers great amenities super-fast internet, which is available 24/7. They have a printer station, meeting room, reception services, phone booth, a spacious common place where you can interact with other coworkers.
There are free refreshments and snacks throughout the day. It has community managers who are available daily at your convenience.
The Hive Thao Dien
It has a solid community base and is located in District 2. It is sunny and serene.
The Hive Villa
This is the place to rediscover working a whole new way. With its poolside café, lash garden, and relaxed vibe, a fantastic atmosphere at this co-working space.
The give has a total of 22 locations in the Asian pacific. It is one of the most excellent picks for entrepreneurs, SMEs, business creatives. Most preferred due to its various locations.
Insider' Highlight: Has very flexible packages for early-stage companies as well as startups. Has membership plans as well.
Address: 29 Nguyen, Ba Liam, Thao Dien Quan 2, Hi Chi Minh 713385, Vietnam
Open Mon-Fri: 8am -8pm (24-hour access to full-time membership)
Price Range

Hot desk: VND 1,500 ,000 PER month
Dedicated Desk: VDN 3,400,000 per month
Private Office: VDN 3,4000,000 per month
Spiced
spiced open of other their co-working spaces back n 2012. Their main focus is that they emphasize a 'work and life' balance. They have the convenience of a co-working space that has an inside Airbnb type of accommodation. They host various network parties in the multipurpose rooms for you to meet like-minded people and network, build partnerships and meet like-minded entrepreneurs.
Insider's highlight: There is a local chef available, with food prepared daily.
Address: Duong so 10, Bing An ward District 2, Hi Chi Minh City Vietnam
Open Mon-Fri 9 am -6 pm
Price range

Day pass: VND 160,000
Week pass: VDN 659,000
Hot Desk: VND 2,200,000 per month
Dedicated desk: VDN 2,800,000 per month
Dreamplex
The dreamplex co-working space has four venues that are aesthetic with a stylishly modern, friendly, and cozy atmosphere. It comes with various amenities with a beautiful view of the waterside and the beautiful city. There are magnificent views. It has an auditorium in the Dien Bien Phu Office. That can sit up to 300 people, and it comes with lighting systems and audio.
You are at liberty to choose your preferred location between each of them if they have a common theme of activities and conversations. They have friendly work staff available, several open spaces, and a massive dreamplex with breathtaking views.
Insider's highlight: Breakfast is provided every Monday.
Address: 21 Nguyen Trung Ngan Street, 1 Ho Chi Minh City
Open Mon-Fri 9am – 6pm
Price range

Hot desk:

VND 15,000 per day
VND 600,000 per 5 days
VND 1,800,000 per month

Dedicated Desk VND 3,100,000 per month
Tong
It is one of the most popular co-working chains found in the Saigon. It combines its modern feel with the old school charm of their Nguyen Thi Minh Khai location. Each style of the place has been refined in combination with all the amenities such as high-speed internet, refreshments, administration. This is a co-working space that is accommodating to both individuals and companies for the comfort of a workplace. It prides itself on the vietnamese market.
Insider's highlight: It is available to host all tech events.
Address: Floor2 &3 Nguyen Thi Minh Khai, District
Open Mon-Fri 8am – 8pm
Price range

Day Deak: VDN 150,000
Associate desk: VND 220,000
Resident desk: VND 1,900,000
Citizen fixed desk: VND 2,800,000