When it comes to business, this is a lot like planting a seed. First, you plant you nurture it and with time the results bring an old man to smile. While talking about this sector of business is nice, we today are mainly focusing on the soil.
Farmers understand very well that seed planted on a rich soil is worth the time and effort – Vietnam is the rich soil for all entrepreneurs.
Currently, the country has moved up the preference list for outside workers (expats) to do business there. Its no secrete that the vietnamese economy is one of the fast-growing ones in the region and this is why you need to start a business there, invest in real estate or invest in a fund which itself invests in companies in Vietnam.
🚨 Of course, many foreigners don't know how to do it and that's perfectly normal. The country is an emerging country and has only recently opened up to foreign investment. So you need to be well informed in order to make the best investment choices. Also check our in-depth guides about those related subjects :

Do you want to learn about how to buy a property and invest in real estate?
Incorporate a business, open and set up a company to take advantage of the exploding middle class?
How to take advantage of business advantages to manufacture in Vietnam and export to Europe or the United States?
Investing in an investment fund that itself selects the companies that have the most growth potential?

Of course, your ultimate goal is to be able to diversify your assets and benefit from returns that you can no longer find in developed countries 🤑 … All these questions require you to be well trained and to be accompanied by various professionals who have visibility on what is happening in the country.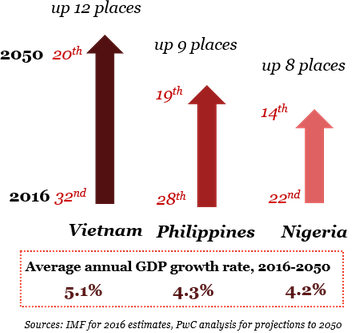 Vietnam in 2050 : study of PwC
In this article, you will discover some of the essential reasons why the country is a very fertile land in which to invest. Economy, demographics, advantages for foreigners to invest … so many parameters that justify the fact that PwC has ranked Vietnam as the country that will have the strongest growth in the coming years. In their recent study "The World in 2050", Vietnam will be the fastest growing country.
We agree with some of these points as well as with the reasons why we consider Vietnam as an excellent alternative to diversify your income, to seek growth where it is difficult to find it and all within legal frameworks that are conducive to foreign investment.
Vietnam in 2021 – 2022: the rise of the new Asian tiger
Vietnam is considered as a frontier market (also called pre-emerging markets). Various factors lead the country to be at the top of many statistics and reports on its dynamism, investment and business opportunities.
This interview with two specialists in macroeconomics and landscape of asian countries will provide you an outlook why experts are considering Vietnam as an "Asian Tiger".
The economy is very dynamic with :
A GDP that highly remains on exports with a strong manufacturing industry;
Targeted and smart actions in 2020 and 2021 about the current global pandemic;
An ease (compared to its neighboring countries) to set up a business as a foreigner;
Free trade agreements and a growing trend of factory businesses relocating from China to Vietnam;
Why invest in Vietnam? – Insights and feedback
If you discover my blog for the first time, you may not know that I have been living in Vietnam for more than three years. This is the country I chose set up companies and invest. In this video, I share with you some of the main reasons why you should consider Vietnam as a place to find growth and diversify your assets:
If you are currently considering several countries in Southeast Asia to invest in. If you want to be exposed to a country with a lot of growth-potential, this video will highlight you the dynamism of Vietnam :
You will discover the infrastructures: metro currently under construction in Ho Chi Minh City, new highways in the heart of district one, modern bridges to link different disctricts, …
I introduce you the reasons (demographic, economic) why make I consider Vietnam as the #1 country where I will focus my investments.
If you also want to invest, I will present you some of the main ways : real estate, business creation, import/export.
Q&A: Invest in Vietnam – Why should you consider it as a great alternative ?
💥 5 main reasons why invest in Vietnam?
According to PwC's research "The World in 2050", which provides forecasts on how the world will develop over the next few decades, Vietnam emerges as the country that will experience the strongest growth. GDP growth, the high proportion of foreign investment (FDI), domestic trade consumption, and construction and infrastructure in the country are expected to increase exponentially.
🇻🇳 3 ways to invest in Vietnam?
The country, because of its history, is still unknown by many investors who have not yet realized the potential in many sectors. However, others have already assessed the potential and many foreign investors (mainly Asian from Hong Kong, Singapore, China, Taiwan) have already been massively entered for the last three years to this new market which attracts a lot of foreign capital. Real estate is the first way to be exposed to the Vietnamese market. It is also possible to set up a business and open a company or even invest on the stock market. If you wish to position yourself on the emerging market such as Vietnam, using one of these three ways or even diversifying can be an excellent strategy to win growth.
🥇 Cambodia vs. Vietnam vs. Thailand?
Comparing countries in the South East Asia region is very important to choose the one with the most growth potential and the best advantages in terms of attractiveness. Vietnam has many criteria such as :
100% foreign ownership of company shares is allowed
recent free-trade agreements between Vietnam and Europe will increase its foreign trades and exports
war between China and the United States (Trump War Tariff) has created a FDI attraction for Vietnam : many chinese investors are relocating their factories and activities to Vietnam.
These are all criteria that should organically continue to boost the Vietnamese economy, whereas other neighbouring countries, which are highly dependent on tourism, do not have an economy that is also based on industries, services and exports.
📊 3 figures that justify investing in Vietnam?
Many statistics are favourable to Vietnam and we would like to share three of them with you:
40% of the population is less than 25 years old, which will constitute a consumer population in the coming decades,
7% is the average annual GDP growth over the last ten years,
20th is the position that Vietnam is expected to reach (a gain of 12 places) in 2050: highest growth behind the Philippines and Nigeria.
These three figures provide a snapshot of the country's global potential for growth and opportunity.
The economy has its promise
As mentioned previously, Vietnam is one of the countries whose economy continually increases. Economic growth has fluctuated between +5% and +10% over the last ten years (an average of +7% growth) which offers good news for entrepreneurs with many opportunities for development. Economy growth is always good news for entrepreneurs because it translates to growth in businesses too. If you are an entrepreneur who wants to set up a business in South East Asia, do not wait too long, its time you look into the country and get your piece of the pie.
We all remember those trying times for the country, the times when financial issues seemed to be crumbling the economy alongside its glory. Well, the fact that they still managed to get up back in time and be one of the top dogs must mean something.
Demographics : The young population is in favor of business
Vietnam currently has a population of over 97 million with a median age of 32,5. This puts the country in the great potential of the need of businesses.
As business people, it is wise we note that such a big population allows us to offer a great variety of consumer options alongside many different types of niches too. A country with a big population allows rooms for experiments that are key in business in the preliminary stages of entering a new market. This is not true in countries with a small population since your competitors will just take advantage of your low moments but if the population is big, then you have many different places to try out new ideas, adjust your offer to fit a need, innovate where your competitors are not, or even disrupt an entire industry with a new way of doing business.
High Foreign Direct Investments (FDIs)
Over the past years, the country has proven itself to be on top of things as far as foreign direct investment flows are concerned. In October 2019 the revenues in the sector reached their highest point ever of $20 billion. This has since dropped due to the pandemic.
Regardless, in just these past five months (since January), we have noted a growth pattern in the revenues enough to estimate that by October this year the accumulated figure will be roughly 17 billion dollars.
With that in mind, why not consider investing in a country that has managed the crisis very well, demonstrated maturity and proactive measures by the government, that can take care of itself and provide you the closure you need.
Favorable trading agreements
The government supports massively investors in doing trading and investing in Vietnam. This includes tax benefits for certain categories of companies, the creation of free zones with significant tax exemptions and various incentives to promote entrepreneurship and foreign investment. This is probably one of the reasons why it has high inflows of foreign direct investors.
In pursuit of glory, the country has managed to sign free trading agreements with a lot of countries worldwide. As you can probably guess, free trading agreements put the country in positions that attract businesses from all angles because of simplicity and convenience.
As of July 2019, the country had already concluded 80 double tax agreements. This is to avoid double taxation of income or property between two contracting companies. This also allows trust in business and countries as they are fewer evasions of taxes and more of trading. To put the cherry on top, the country has managed to do regional FTAs too.
More recently, the EU-Vietnam Free Trade Agreement (EVFTA) will come into force in August 2020, which provides for the elimination of up to 99% of current customs duties between the two countries. This will continue to favour import-export oriented industries and allow many factories in Vietnam to continue manufacturing for export. What more would you need?
Fewer expenses
In business, the key thing is to spend less and earn more. Vietnam plays its role by providing fewer expenses compared to other countries. This is why manufacturing, assembling and then exporting finished products will allow an entrepreneur to benefit from skilled labour at much lower hourly rates than other manufacturing countries. It might not be the lowest of them all but hey considering all we have discussed above, for sure it maneuvers its way to the top, it is an excellent alternative to consider for someone wishing to set up in South East Asia to manufacture or even sell on the domestic market.
In advertising, the country has very low costs compared to other countries. This is good news for those in business because it allows you to import, distribute or even market yourself your products in affordable ways.
The country has one of the lowest labor costs in the world, this will have you spend less meaning you gain more. With a lot of young population in the country, there is more competition amongst workers meaning that there is a lot of advantages for the business owners.
If we look at the income tax side, the taxes in the country are more tolerable than those of other countries; even if it's not a tax-haven country. This already attracts business to be done in the country. Looking at all this, to maximize profits in your business you need to consider doing your business in Vietnam.
Let's be honest though who doesn't want to benefit from flexible business creation, accessibility to cheap labour and attractive taxes for entrepreneurs? It's a godsend for investors!
Great infrastructure and development
Over the years, the country has managed to improve its infrastructure and development. As mention previously, the country had its low moments but it managed to pull its socks to be one of the fastest-growing countries economically.
Vietnam is one of the countries that has managed to improve its quality of living for people drastically. There are a lot of people that have managed to move from being very poor to now able to provide for themselves – a very high percentage of the population.
A middle class that gets better living conditions is a population that will want access to better quality products and services. Being able to anticipate the future needs of this middle class and offer them quality foreign products is a challenge on which many brands wish to position themselves. In short, Vietnam offers a dynamic young population that is gaining in purchasing power while having a low cost of living that will increase year after year. An investor who positions himself today will have opportunities for growth and increases: real estate prices, valuation of his company, increase in product prices … which can present an arbitrage in which to infiltrate as a project leader.
Lovely Geo Location
The country is located almost at the center of Asia allowing better trading routes. On top of that, the country is not a landlocked country allowing nice trading routes and access to the ocean all across the country.
Should you invest in Vietnam ?
To make you feel by yourself of the opportunities present in Vietnam, the best thing to do would be to come and spend a few weeks there: meet entrepreneurs, investors and make a market study to know if you could position yourself there.
For you to prove how great the country is when it comes to business is for you to take the first step in doing business in Vietnam and watch your business unfolding its best potential.
You just have to make the right meeting, exchange the right business card or do a small action that could open on the development of your investment or business in Vietnam.
We recommend that you start as early as possible to make a first move before the competition intensifies because don't forget that the country is now in the spotlight so many people as well as you will start to explore the opportunities.
How to invest in Vietnam ?
Has your perspective on the country changed? Would you like to learn more about different vehicles that allow investors to benefit from exposure in Vietnam? Discover our different guides and articles on :