Projected to be the 20th largest economy in the world in a few years time, Vietnam is one of the largest and fastest growing economy in the world. A status which has attracted investors from all over the world, rated as the 3rd best performing economy in Asia, Vietnam is an investment heaven for many. The country boast of a GPD growth level of 7%, which is another irresistible reason to invest in Vietnam.
With government restrictions relaxed on foreign ownership of property in Vietnam since the year 2015, Vietnam had grown as one of the biggest economies in southeast Asia and is still booming. With no foreign restrictions placed on investment in the Vietnam stock exchange, foreign participation had increased over the years leaving Vietnam with an economy that is the talk of many all over the world.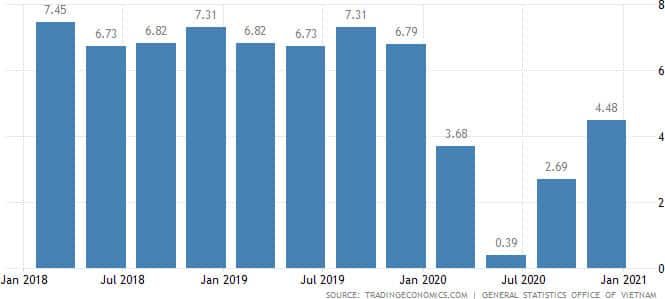 The Vietnam stock exchange has over 700 stocks listed and traded on the market, across the two Vietnam exchanges making it one of the busiest stock exchange in the world, with an amazing turnover yearly.
This article will answer your questions on what the stock market in Vietnam looks like, and what you should know about this market.
Exclusive interview with a stock trader in Vietnam
Does Vietnam present opportunities for foreign investors? How to invest in Vietnam when you are a beginner? How can you surf the dynamism of this booming Asian economy? Vietnam is a frontier market (also known as pre-emerging market) which makes it a country to study closely. Its economy is considered as the new Tiger of Asia and foreigners can evaluate investment opportunities such as stock market channels to invest in Vietnam.

In this exclusive video, you will learn more about this way allowing foreign investors to invest in Vietnam. You will also discover :
Benchmark of different ways to invest in Vietnam;
Risks and pitfalls to avoid while investing in Vietnam stock market;
Buying/selling ETFs & mutual funds vs. stocks: advantages and disadvantages
How to get started investing in the stock market in Vietnam;
Can foreigners buy / sell stock in Vietnam ?
Foreigners are welcomed to trade in the Vietnam stock exchange, with governments policies put in place that allows for such foreign participation. Furthermore the Ho Chi Minh stock exchange inline with government directives to allow foreign ownership of properties in the country, relaxed its policy on foreign participation in the stock exchange, allowing for foreign participation in the stock exchange market of Vietnam.
Which exchanges in Vietnam to invest into ?
They are two exchanges in Vietnam, with one located in Ho Chi Minh and the other located at Hanoi. With moves being put in place to merge these exchanges together, it is believed that in no due time Vietnam will also have a single stock exchange.
The Ho Chi Minh Exchange
Ho Chi Minh exchange is the biggest exchange in Vietnam and has an average trading value of $180 million per session traded, the exchange has about 377 stocks listed and traded on it, and boast of a market capitalization of over $140 billion. Contributing to over 50% of the national GDP.

In brief, HOSE is characterized by the following factors:
It is the largest stock exchanges;
Owns total stocks of about 305;
Holds market capitalization of about US55 billion;
Has an average monthly yield during the first half of the year 2015 as $1.55 billion;
The opening hours for trading range from 9 am to 3 pm, with breaks from 11 am to 1 pm.
The Hanoi exchange (HSX)
Relatively similar than the Ho Chi Minh exchange, Hanoi exchange is the second exchange in Vietnam. The exchange has 367 stocks listed and traded daily on the stock market, and has a trading value of $38.8 million per session of trade. The market capitalization of the Hanoi exchange is capped at $8 Billion and trades stocks of small and medium sized companies.
In brief, HSX is characterized by the following factors:
It is the second-largest stock exchange in Vietnam;
It owns market capitalization of about $6.5 billion;
Holds total stocks of approximately 361;
Has an average monthly yield during the first half of the year 2015: $0.50 billion;
Traders are allowed to trade from 9 am to 3 pm and are given a break starting from 11:30 am to 1 pm.
What are the differences between the two exchanges?
The kind of stock traded on each exchange differs from the other, while the Ho chi Minh one is the biggest exchange in Vietnam and has all major stocks traded on it, the exchange at Hanoi is relatively small and has only small and medium sized companies treaded on it.
How to invest in Stock Market in Vietnam
If you are desirous of investing in Vietnam stock exchange, this article is put together to guide you on how to register and start your investment in the stock exchange market of Vietnam.

Here are the steps to take to register and invest in the Vietnam stock exchange :
1. Get a stock broker
Rightly, so. Get a stock broker, as a newbie in the Vietnam stock market you will need to start by getting a stock broker who will advise you on the best performing stocks and also serve as your intermediary where you are a foreigner.
In most cases, a couple of the largest and trustworthy brokerage companies often have some customer representatives who can speak English fluently. They will help you with all the ins and outs of investing in Vietnam's stocks. This is especially if your choice to pay a visit to any of the branches in town.
The reason why you should focus on large brokerage firms is that they are often competent and experienced in handling stock brokering as compared to small scale brokerage companies, and this is precisely what you want.
You can choose from the following brokerage firms that have already created a name for themselves in Vietnam:
Viet Capital Securities Joint Stock Company;
Saigon Securities Incorporation;
Ho Chi Minh City Securities Corporation;
ACB Securities Company Ltd.;
Vndirect Securities Corporation.
Yuanta;
The broker will guide you through the necessary account opening processes, and also ensure you get the necessary knowledge needed to start your journey in the market. As rightly suggested get a stock broker and your start out problems will be half done with, so let's see the next step.
2. Open a brokerage account
With a stock broker in place the next step is to open a brokerage account, the brokerage account is where you trade equities and stocks listed on the stock exchange daily, the brokerage account is where you make all your stock decisions and watch the results of each decision.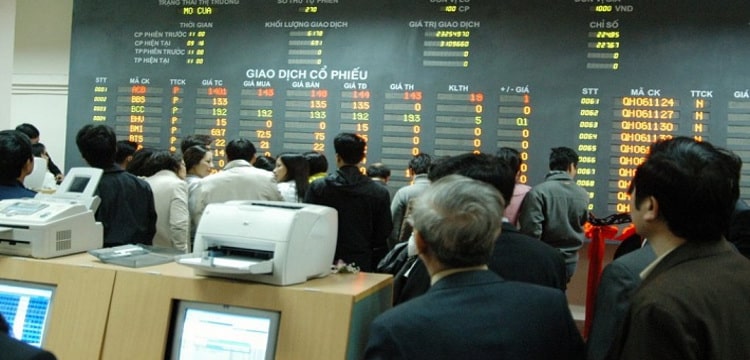 This is one of the most important step, the account opening process will demand the submission of credentials to the authorities such as your passport and other relevant documents. The documents may be different according to which Brokerage Company you will work with, but the list of required document should be this one :
Copy of passport;
Account Opening Application;
FATCA Compliance Document (US Citizens);
Power of Attorney (POA);
Securities Trading Code Application.
These documents will be required in the other steps, the good thing with getting a broker is that he helps you with processes such as the filling of your forms and the opening of your brokerage account. An important reason while you have to chose a good broker.
3. Open a bank account to be domiciled Vietnam
You will need a bank account opened for you in Vietnam, this step is important as the account will serve for the purposes of holding your cash in Vietnam and also will be where your earnings are deposited into.
This important step can be done for you by your broker, which highlights another important reason why you need a reliable stock broker.
4. Get a securities trading code
This is a mandatory requirement for trading in the stock exchange in Vietnam, as the securities trading code serves as the identification of traders and investors of the stock exchange.
The broker you have engaged, can also help you with this process as he stands with you all through the steps, and ensure mistakes are avoided along this journey.
5. Start trading and buy your first stock
Yes, the stage you have been waiting for. Having gotten your securities reading code and also having deposited money into your brokerage account, it is all set for you to trade now.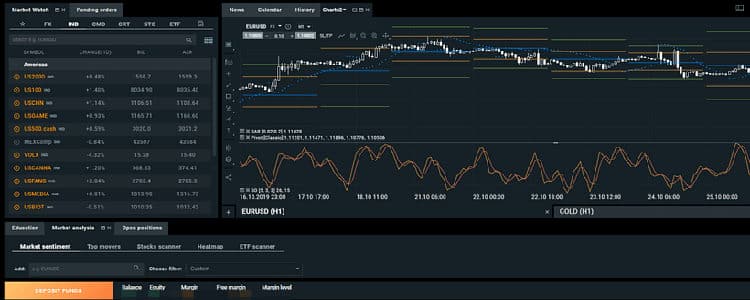 Start investing small amounts for a fraction of your savings to practice with the tools provided and market analysis. You'll be better prepared in a few weeks to profile yourself and make a profit on the market.
Q&A : Investing in stock market in Vietnam
🚨 Local brokerage account vs international broker ?
Personally I feel more comfortable having my saving on an international brokerage account. As Vietnam is an emerging country and rules about banking for foreigners are updated quite often, I prefer have my savings overseas in a country that is stable in term of banking conditions and established for several decades. Using an offshore broker platform to invest in stock markets also in general allows you to get an exposure on emerging markets such as Vietnam.
📈 Invest in vietnamese stock market as a foreigner ?
If you are an expatriate living in Vietnam or a foreign investor that want to be exposed to this growing and dynamic market, you can find ETFs : instead of buying one single stock, you will own a bunch of different shares. This is the best way to invest in stock market as a foreigner living in Vietnam or an investor from abroad. One specific ETF about Vietnam provides such an exposure on this emerging market. So you can own a part of the vietnamese index by having a percentage on each share componing the tracker.
🇻🇳 What about this famous Vietnamese ETF ?
VanEck, US investment management firm created more than 70 years ago is providing VNM : the well known "Vietnam ETF" allowing investors to get into the vietnamese stock market. They are owning shares of Vingroup, Vinhomes, Vietnamese banks, F&B brands, manufacturers, etc … that provide a real exposure on the Vietnam market.
🤔 How to get started and buy your first stock in Vietnam ?
Either you choose to open a local brokerage account among the famous broker companies we listed down on this article, either you want to get diversified by keeping your savings outside of Vietnam and being able to buy and sell stocks from overseas. We would recommend you the second option and invite you to consult our in-depth article focusing on investing offshore through legit brokers.
Risks of Investing in the Vietnamese Stock Market
Even though the country's rapid growth rate is pulling the equity markets up and becoming the main reason why so many wise investors are starting to have a look in the Vietnamese stock market, be aware that you should remain cautious.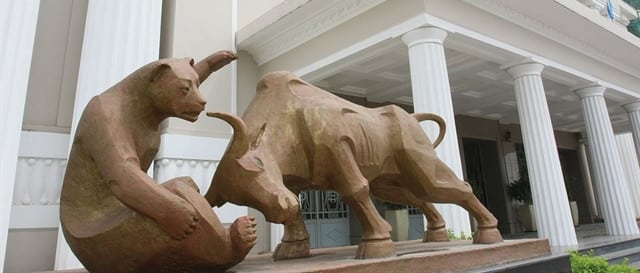 You must be vigilant as with all investments (whether you are investing in your home country or abroad). You must start by defining your risk profile in order to handle properly negative emotions coming with market fluctuation.
Follow government regulations, changes in legislation concerning foreigners is also an important point to follow. Finally, it is always best to focus on key sectors and industries that are driving the country's long-term growth, so you will make profitable investments month after month, year after year.
These factors can make investing in stock markets, either risky or profitable:
Fast-growing economy – Vietnam's economy has been growing at a fast rate of about 4 to 8 percent, from the time it recovered from the Asian Financial Crisis of the year 1997. This crisis had destabilized the economy, almost taking it to its knees. But Vietnam has since made progress by adopting strategic tactics that saw its economy even stabilizing faster than its immediate neighbors. The biggest challenge is maintaining its economic status to allow every other industry to flourish, including stock markets.
Self-driven economy – Vietnam managed to grow its industries and infrastructure that led to the stabilization of its economy faster than it was projected. At this point, Vietnam can solely drive its economic figures up high with high-flying petroleum and energy production industries. The country depends on petroleum products and energy resources for local consumption and as well for export purposes, which, in return, helps boost its GDP.
Overreliance in one industry – Vietnam needs to continue boosting the petroleum industry amid other viable sectors to ensure that the economy remains stable even when the petroleum industry performance fluctuates. This is bearing in mind that the production of crude oil is expected to reduce, further crippling the country's economy.
Socialist-leaning economy – Vietnam is known to have moved from a centrally run economy. However, it is still evident that the government is still controlling a lot of critical industries. This can be a significant problem in case the government fails in employing strategic approaches to balancing the economic performance, which may dent the whole economy for the worse. Vietnam may need to decentralize its mode of governance to reduce the risks of weakening the economy.
Early-stage market economy – Vietnam is known to be in an early and most susceptible state of its economic progress. At this point, any wrong move will have a profound effect on its economy and the performance of related industries, including the stock market.
Conclusion
With a massively growing GDP, Vietnam stands as one of the world choice investment location and attracts investors from all over the world. The stock exchange is one of the biggest players in Vietnam as it continues to evolve overtime into one of Asia biggest market, this article seeks to educate you on the things you need to know about the Asia stock market and why you need to invest in the market as it promises huge potentials to investors all over the world.
Thanks to the relaxation on foreign ownership of property in the country, a bold step taken in 2015. This action had seen a massive revitalization of the economy of Vietnam, and foreign participation in its stock exchange market as well. Investing in the Vietnam stock exchange comes with enormous benefits as the exchange is one of the biggest in the world, with a market capitalization pegged at over $150 Billion the Vietnamese stock exchange is quite unresistable as this point.
The Vietnamese stock exchange is often quoted at conferences dedicated to investment in Asia as well as real estate in this region as opportunities for the future. We hope that through this article, you have a more clearly picture about investing in Vietnam. Finally, we hope it has given you some key notions to help you take action and invest in the stock market in Vietnam.